Motorbike tires are an essential component of any motorbike and play a crucial role in the performance, handling, and safety of your bike. Motorcycle tires come in a variety of shapes and sizes to accommodate different bikes, terrains, speeds, and weather conditions.
At its core, a tire is made up of two components: the inner tube and the outer casing. The inner tube contains pressurized air that provides cushioning for the rider as they ride over bumps or other irregularities on the road surface. The outer casing helps maintain traction on various surfaces by providing grip with its tread pattern design. It also adds strength to protect against punctures from sharp objects on the road.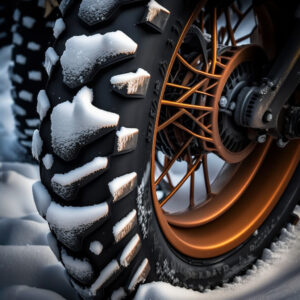 There are several types of motorcycle tires available depending on their purpose – street-riding vs off-road riding – with each having distinct characteristics that make them ideal for certain conditions or styles of riding. Street motorcycle tires usually feature smooth tread patterns designed for maximum traction when cornering at high speed while still offering good straight-line stability.
These will often be found fitted to sports bikes and touring motorcycles alike due to their versatility across both wet roads and dry asphalt tracks alike. Meanwhile, off-road tires typically have knobbly lugs which provide more bite into the soft ground like mud or gravel making them better suited for tackling rough terrains such as sand dunes or rocky trails; these are most commonly seen fitted onto enduros (dual sport) style machines such as dirt bikes or scramblers.
The size markings printed onto motorcycle tires denote their width (in millimeters), aspect ratio (percentage relative to width) & construction type plus wheel diameter (in inches). As well as this there's also usually an alphanumeric code denoting load index & speed rating – both important pieces of information relating directly to how much weight can be carried safely by a given tire plus its maximum safe operating speed respectively. It's worth noting here that fitting incorrect-sized tires may affect vehicle control thus increasing risk so always double-check before purchasing new rubber.
What Are the Benefits of Motorbike Tires?
Motorbike tires offer a variety of benefits that can make riding safer and more enjoyable. They provide a better grip on the road surface which allows riders to corner with greater confidence.
This improved traction helps reduce wheel slippage when braking or accelerating hard, increasing safety levels for both rider and passenger. Motorbike tires are designed to cope with higher speeds than those found in regular vehicles.
Their construction ensures that heat is dissipated efficiently during long journeys at high speed, helping reduce wear and tear on the bike's suspension system. Modern motorbike tires come equipped with advanced tread patterns designed to increase comfort levels for riders who spend extended periods in the saddle. These specialized treads also allow water from wet roads to be channeled away from contact points between tire and ground, helping improve overall stability while riding in wet conditions.
How Can I Choose the Right Motorbike Tire?
When it comes to choosing the right motorbike tire, there are several factors to consider. The first and most important factor is your bike's purpose. Are you looking for an all-purpose tire that can handle different terrain or a specialized one designed for a specific type of riding? Knowing what type of terrain you will be riding on will help narrow down the choices available.
The second factor is size. Motorcycle tires come in many different sizes and widths, so make sure to get the correct size for your bike before making any purchase. Some manufacturers may offer wider versions of their tires which can improve performance in certain conditions such as mud or sand. Be sure to check with your local motorcycle shop if you have any questions about sizing before buying a tire online.
Consider the tread pattern when selecting a tire for your motorcycle. Tread patterns play an important role in traction and grip on various surfaces and can make all the difference when it comes time to ride off-road or on wet roads where traction is key. Different types of tread patterns are better suited for different terrains so make sure you understand what kind of riding surface you'll be spending most of your time on before making a decision about which tire best suits your needs.
Are All Motorbike Tires the Same?
No, not all motorbike tires are the same. For example, The Pilot Power 3, Shinko 705, and Kenda K784 are three totally different tires. If you want to fit a very sticky premium street tire to your machine you should consider a Power RS tire. Motorbike tires come in a variety of sizes, shapes, and tread patterns to accommodate different types of terrain and riding styles. There are three main categories of motorbike tire: road-oriented, off-road/all-terrain and dual-purpose.
Road-oriented tires are designed for paved surfaces like highways or city streets. They provide maximum grip on dry roads with minimal wear and tear on asphalt surfaces. Off-road/all-terrain tires have deep grooves for better traction in mud or dirt terrains while maintaining good stability at high speeds on the pavement as well. Dual-purpose tires combine the best qualities of both types – providing adequate performance on both street and off-road conditions while compromising neither one's capabilities significantly.
Motorcycle riders should select their tire type according to their intended use so that they can get the most out of their motorcycle experience without sacrificing safety or performance standards. Some manufacturers offer specialized tire designs that are specifically tailored to specific models or brands; these may be worth considering if you're looking for an even more personalized ride experience.
What Is the Difference Between Tubed and Tubeless Motorbike Tires?
Tubed and tubeless motorbike tires are two different types of tires that have distinct advantages and disadvantages. Tubed tires feature an inner tube which holds air inside the tire, while tubeless tires do not require this inner tube as they fit directly onto the rim of the wheel.
One major advantage to using a tubed tire is that it can be easily repaired in case of a puncture or flat, by simply replacing the inner tube. A disadvantage to using a tubed tire is that it can cause more friction due to its thicker profile when compared to a thinner, lighter-weight tubeless tire. A major benefit of opting for a tubeless setup on your bike is improved handling due to their reduced weight and lack of extra components such as an inner tube.
There is less chance for air loss due to punctures because they form an airtight seal against the rim with no need for additional parts like valves or glue. However, repairing any damage caused by debris hitting them can be difficult since there's no easy way to patch up holes in the casing without taking off all four wheels from your bike first.
Both types of motorcycle tires offer their own unique benefits depending on your specific needs and riding style – making it important for riders to understand what type best suits their situation before investing in new rubber for their ride.
What Is the Best Pressure for Motorbike Tires?
The best pressure for motorbike tires depends on several factors, including the type of bike and its intended use. Generally speaking, it is recommended to maintain tire pressures between 28-32 psi (pounds per square inch) for most street bikes. This range provides optimal traction while still offering a comfortable ride quality.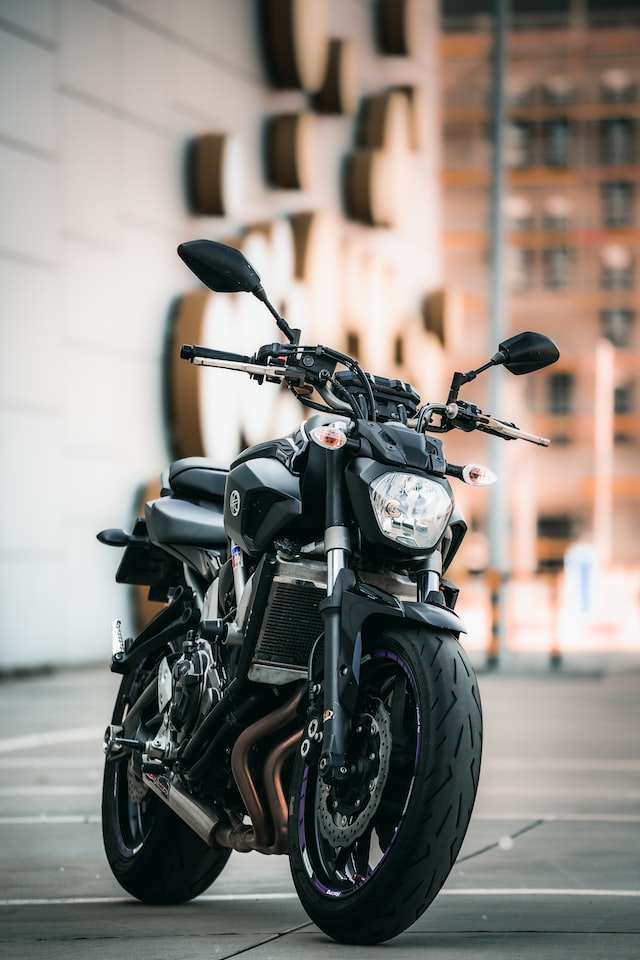 For more aggressive riders who take their motorcycles off-road or do more spirited riding on back roads, higher pressures may be necessary in order to prevent pinch flats due to hitting bumps and rocks at speed. In these cases, increasing the pressure up to 36 psi can provide improved handling without sacrificing too much comfort.
When taking long trips with heavy loads such as passengers or luggage, slightly lower pressures can help improve overall ride quality by allowing the tires to absorb some of the road irregularities instead of transferring them directly into your body via the suspension system.
This means that tire pressures should be reduced from 28-32 psi down to 24-26 psi in these situations for maximum comfort and safety during extended rides.
What Size Tire Should I Buy for My Motorbike?
When it comes to buying the right size tire for your motorbike, there are a few key factors to consider. First, you'll need to know the exact measurements of your bike's wheels, including width and diameter. Once you have these measurements in hand, you can use them to determine what size tires will fit on your bike. Generally speaking, if the width and diameter match up with a given tire size–whether that be an inch-measurement or metric sizing system–then that particular tire should work for your bike.
In addition to finding a properly sized tire for your motorbike, there are other aspects of the product that must be considered when making a purchase decision. Factors like tread pattern and rubber compound play an important role in how well the tires perform under various conditions such as wet roads or off-road terrain. Knowing how much mileage you expect from each set of tires can help guide which type may best suit your needs over time; certain products offer longer life than others but may cost more upfront.
Ultimately though choosing which size tire is right for your motorbike ultimately depends on its specific dimensions as well as any performance requirements you might have in mind. If unsure about what is best for you situation then consulting with an experienced technician or shop professional who can advise accordingly would likely provide valuable insight into which option makes sense given all factors involved.
Can I Use Car Tires on a Motorbike?
No, car tires are not designed for use on a motorbike. Motorbikes require specific types of tires to be able to handle the acceleration, cornering and braking that is required from them. Car tires may look similar in size but they are built differently with different tread patterns and construction materials which make them unsuitable for use on a motorbike. Because of the unique dynamics of riding a motorbike, car tires could cause an increased risk of slipping or losing control due to their lack of grip when cornering at speed or sudden stops. It is best practice to only install tires specifically designed for use on your particular model of motorbike as this will ensure you have the right balance between performance and safety while riding.
What Types of Motorbike Tires Are Available?
There are a variety of motorbike tires available on the market today, and each type is designed to meet specific needs. The most common types of motorbike tires include street-legal sport tires, touring tires, off-road and dirt bike tires, scooter and moped tires, dual sport (or adventure) motorcycle tire sets, cruiser and chopper bike tire sets as well as custom specialty options for vintage bikes or other unique applications.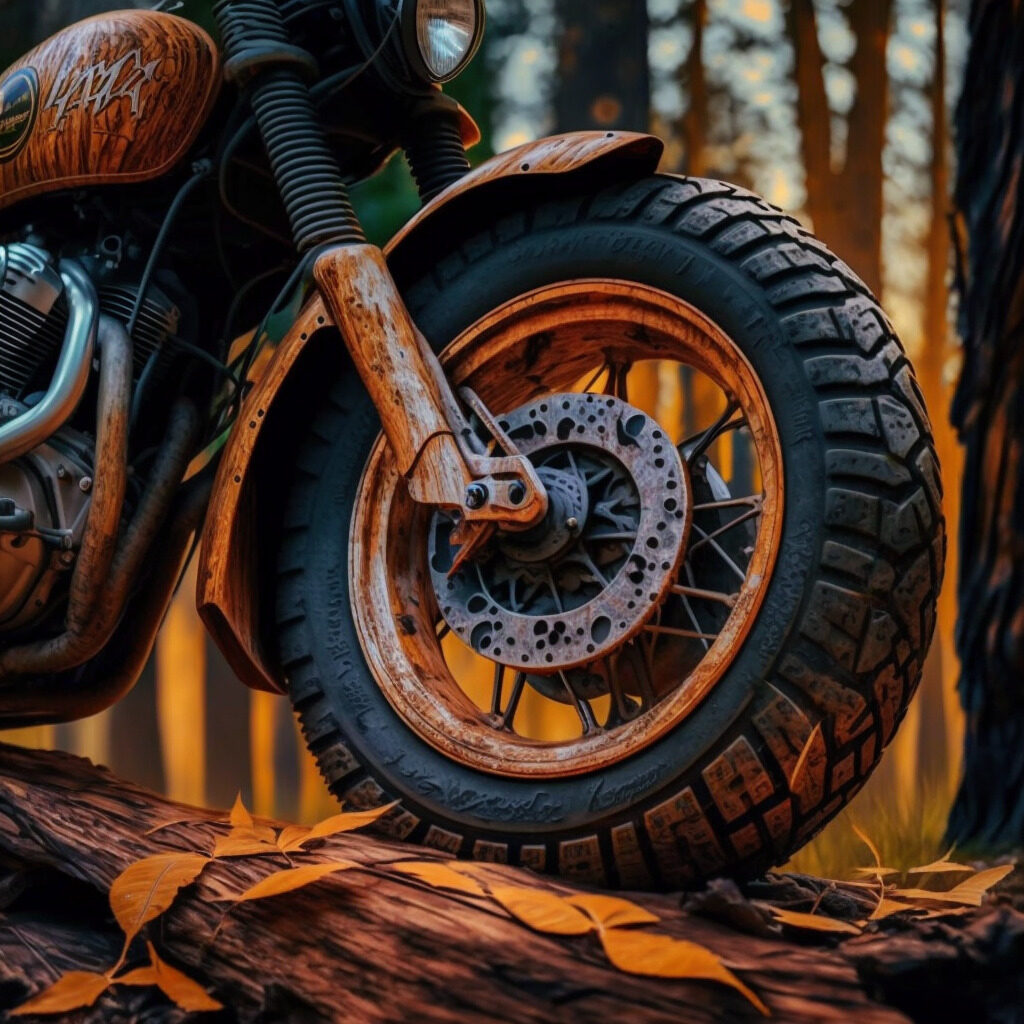 Sport bike riders typically prefer a sticky compound that offers maximum grip in dry conditions with some ability to handle wet roads.
Touring riders need good mileage from their tire set without sacrificing too much performance; they should look for long lasting rubber compounds combined with tread patterns designed for all weather conditions.
Off-roaders need heavy duty treads that can dig into mud or gravel surfaces while providing enough stability at high speeds over rough terrain. Scooter and moped owners require specialized wheels with different widths depending on application; most feature smaller diameters than conventional motorbikes which necessitate special profiles when choosing an appropriate tire set.
Dual sport (adventure) motorcycles often come equipped with both road friendly street legal rubber as well as knobby off-road ready lugs so riders can enjoy varying terrains during their journey without having to change out their wheel set every time they switch surfaces. Cruiser bikes generally have more sidewall support than other varieties of motorbikes so softer compounds work better in this instance while allowing smooth cornering capabilities along winding roads; there are also many custom styles available specifically made for these types of vehicles if desired by the owner. No matter what type of motorcycle you own or ride there's likely a suitable tire option out there suited just for your needs.
Engineers at Harley-Davidson and Dunlop have collaborated for a long time to create a balanced riding quality. The Dunlop Harley Davidson D402 is a high-quality option among the available tires. Seek out further reading on the subject immediately. Engineers at Harley-Davidson and Dunlop have collaborated for a long time to create a balanced riding quality. The Dunlop Harley Davidson D402 is a high-quality option among the available tires. Seek out further reading on the subject immediately.
What Is the Life Expectancy of a Motorbike Tire?
The life expectancy of a motorbike tire depends on various factors such as the type of terrain, the speed and frequency at which it is used, and how well it is maintained. The average lifespan of a motorbike tire is anywhere from 3,000 to 10,000 miles; however, this range can be affected by usage habits.
For instance, off-road riders who use their bikes in harsh terrain may experience shorter lifespans due to increased wear and tear. Similarly, those who ride their bikes frequently or at high speeds are likely to experience more rapid wear than those who ride less often or more slowly. In order to maximize the life expectancy of your tires it's important that you regularly check for signs of damage or worn treads.
Keeping your bike inflated properly will help maintain even tire pressure and reduce premature deterioration caused by improper inflation levels.
Finally there are several maintenance practices that can also extend the life span of your tires including regular rotation and balancing services as well as using specialized protective coatings on exposed surfaces. By following these guidelines you should be able to get thousands of miles out of your motorbike tires before needing replacements.
How Can I Extend the Life of My Motorbike Tire?
One of the most important things you can do to extend the life of your motorbike tire is proper maintenance and care. To ensure a long-lasting, safe ride for yourself, here are some tips:
First, check your tire pressure regularly. Properly inflated tires will last longer and help keep you safe on the road by improving traction and handling. If the air pressure in your tires falls below the recommended level, it could cause them to wear down prematurely or even lead to an accident. You should also inspect your tires for signs of damage such as cracks or punctures before every ride.
Second, rotate your motorcycle's tires every 5,000 miles or so (or as often as suggested by manufacturer). This helps even out tread wear over time and makes sure that each tire wears evenly when riding at different speeds on different surfaces. Rotating them also gives you a chance to check their overall condition while they're off the bike – if any problems arise then they can be fixed before they become too serious and cause major damage down the line.
Avoid using overly aggressive braking techniques which can lead to premature wear of both front and rear tires alike.
Instead use progressive braking where necessary – this means gradually increasing brake force until desired speed is reached rather than slamming on brakes at full force from start point – this will result in less strain being put onto each tire during stops which will help prolong its lifespan significantly.
Should I Replace Both Motorbike Tires at Once?
When it comes to replacing the tires on a motorbike, one of the most common questions is whether both should be replaced at once. The answer depends on several factors and ultimately comes down to personal preference.
If both tires have reached their expected lifespan and are showing signs of wear and tear, then it's likely that they should be replaced together. This ensures that your bike has even tread depth which helps with traction and safety when riding. If you replace only one tire at a time, you may end up having two different types of tire tread patterns which can create an uncomfortable ride due to unequal handling between front and rear wheels.
On the other hand, if one tire shows more wear than the other, but still has some life left in it before needing replacement completely, then it might be best to replace just the worn out tire first before tackling its partner later down the line. This way you can maximize value for money by getting as much use out of each individual tire before having to buy another pair altogether.
When deciding whether or not to replace both motorbike tires at once comes down personal preference based on factors such as budget constraints or usage requirements from each individual rider's situation.
What Are Some Tips for Maintaining Motorbike Tires?
Maintaining motorbike tires is essential for ensuring a safe and comfortable ride. Here are some tips to keep in mind when it comes to caring for your motorcycle tires:
First, check the tire pressure regularly. This should be done at least once a month or before long rides. The proper air pressure can vary depending on the type of bike you have, so make sure to refer to your owner's manual for specific guidelines. Properly inflated tires will ensure that you get maximum performance from them as well as improved fuel economy and better handling.
Second, inspect the tread depth of your motorcycle tires regularly. The minimum legal tread depth varies by country, but most recommend having at least 1/32 inch (0.8 mm) of tread remaining after 6 months of use or 10k miles (16k kilometers). If you find that any tire has less than this amount then they need replacing immediately – worn out tires could lead to dangerous riding conditions such as skidding on wet roads or poor grip while cornering hard.
If possible try not to leave your bike parked in direct sunlight too often; prolonged exposure can cause the rubber compound used in making motorcycle tyres deteriorate quicker over time which leads to premature aging and cracking on their surfaces – meaning more frequent replacements down the line.
How Do I Know When It's Time to Replace My Motorbike Tire?
When it comes to replacing your motorbike tire, it's important to know when the time is right. This can be a tricky question as different tires have different lifespans depending on the type of terrain you ride in and how often you use your bike. To help answer this question, here are some signs that indicate it may be time for a new tire:
1. Tread Wear: If you notice that the tread on your tire is beginning to wear thin or has visible cracks or scratches then it's likely time for a replacement. Regularly checking the depth of your tread will help you keep an eye out for any unusual wear patterns which could indicate that the rubber material is starting to break down from age and usage.
2. Bulging Tire Walls: Another sign that indicates it may be time for a new tire is if you notice bulges forming along its sidewalls or center section. These bulges can occur due to weakened internal components such as cords or plies which have become damaged over time due to regular exposure to road hazards like rocks and debris, uneven roads surfaces, etc. So replacing them before they cause further damage would be wise decision.
3. Unusual Vibrations: Unusual vibrations during rides can also signify an issue with one of more tires and should not be ignored as they could lead to further issues if left unchecked over long periods of time – especially if these vibrations start occurring at higher speeds than usual. Checking all four tires regularly by hand will help identify any potential problems before they worsen too much – if one does appear faulty then consider getting another replacement immediately in order prevent future complications from arising later down the line!
How Often Should I Rotate My Motorbike Tires?
Rotating your motorbike tires is an important part of regular maintenance that can help keep your bike running safely and efficiently.
Generally, it's recommended to rotate the tires every 3,000 miles or every 6 months – whichever comes first.
However, some bikes may require more frequent rotations depending on the type of tire being used and how often you ride.
When rotating your motorbike tires it's important to remember that front-wheel drive bikes should have their rear tires switched with each other while back-wheel drive models will require all four tires to be swapped around in a cross pattern.
If you are using dual sport or adventure touring motorcycle models then both sets of wheels need to be rotated at different intervals for maximum efficiency. It's also essential to ensure the pressure levels in each tire are properly adjusted before taking off again on your journey.
When performing routine maintenance such as tire rotation it is always wise to consult a professional mechanic who can inspect any potential issues such as worn out treads or punctures that could affect performance and safety while riding. Regularly rotating motorbike tires helps extend their lifespan which saves money over time and ensures smooth rides for years down the road.
What Is the Difference Between Off-Road and Street Motorcycle Tires?
The difference between off-road and street motorcycle tires is an important one to consider when selecting the right type of tire for your needs. Off-road motorcycle tires are designed to provide better traction in dirt, mud, sand and gravel, while street motorcycle tires are designed to provide optimal performance on paved surfaces such as highways and city streets.
Off-road motorcycle tires typically feature a more aggressive tread pattern with larger knobs that can dig into soft terrain, providing better grip in slippery conditions. These knobs also help protect against punctures from rocks or other debris that may be encountered while riding off-road. Street motorcycle tires generally have a smoother tread pattern which helps reduce rolling resistance and improve fuel economy.
The softer compound used on these types of tires helps them adhere better to asphalt roads giving riders improved control at higher speeds.
When it comes time to purchase new motorcycle tires it's important to select the correct type for your intended use; whether you plan on doing some serious trail riding or just sticking mainly to the pavement, having the right tire will ensure maximum performance from your bike and keep you safe out there.
Do Weather Conditions Affect the Performance of My Motorcycle Tire?
Yes, weather conditions can have a significant effect on the performance of your motorcycle tire. In general, colder temperatures lead to harder tires that are more resistant to wear and tear but offer less grip on wet surfaces. Warmer temperatures cause softer tires with increased grip in wet or dry conditions, however these tires may experience faster wear and tear than their cold-weather counterparts. Rain can significantly reduce traction due to an increase in surface water between the tire and road which makes it difficult for the tire's tread pattern to provide adequate grip. Therefore when riding in wet or cold weather conditions it is important to adjust your speed accordingly as you will not be able to corner at higher speeds without risking losing control of your bike.
Which Type of Tire Should I Choose for Racing Purposes?
When it comes to choosing the right tire for racing purposes, there are a few factors to consider. You need to determine what type of terrain you will be racing on. This could be flat surfaces such as asphalt or gravel roads, or uneven surfaces like dirt tracks and mud trails. You must decide whether you prefer high speed performance or enhanced grip in order to achieve maximum acceleration and cornering ability.
For most racers who focus on speed performance, slicks are typically the go-to choice due to their low rolling resistance and aerodynamic profile which enables them to cut through air more efficiently than other types of tires. Slicks also offer less drag when braking into corners and provide a predictable level of grip even at higher speeds compared with standard street tires. However, they do have less overall grip than other kinds of tires which can make them difficult to handle in wet conditions so they should only be used if your races take place exclusively in dry weather environments.
If your race courses involve multiple terrains that require better grip then radial tires may be preferable over slick options since they feature deeper tread patterns which allow them to dig into softer ground surfaces while still offering great stability on hard roadways. Radial tires also tend not have an issue with aquaplaning during heavy rains so these would be ideal for racers who participate in events where rain is frequent but not necessarily guaranteed every time out on track day.
Selecting the right motorbike tire for racing purposes depends largely on what kind of terrain you plan on competing in as well as how much importance is placed upon speed versus handling capabilities from each individual racer's perspective.
Are There Different Styles of Motorcycle Tires Available?
Yes, there are different styles of motorcycle tires available for riders to choose from. Depending on the type of riding a motorcyclist does and their individual preferences, they can select from several types of tire designs.
Touring tires provide more stability at higher speeds and longer distances with increased durability over other tire designs. These tires also tend to have deeper tread patterns that increase traction in wet conditions and reduce hydroplaning risks.
Sportbike tires typically feature lighter constructions with lower profiles designed for high performance cornering and acceleration in dry or wet weather conditions. The rubber compound used is usually softer than those found on touring or dual sport bikes which allows them to stick better during hard cornering but decreases their overall lifespan as well as how long they last when ridden in cold temperatures.
Dual sport tires offer a combination of both street-riding capabilities while still having off-road capability too; ideal for riders who frequently ride on gravel roads or paths away from asphalt surfaces. They feature an aggressive tread pattern that helps improve grip when riding through mud or sand as well as providing better braking power under all kinds of road conditions compared to traditional street bike tires.
Do Specialty Tread Patterns Improve Handling on a Motorcycle Tire?
Yes, specialty tread patterns can improve the handling of a motorcycle tire. The tread pattern on a motorcycle tire affects the amount of grip and traction it provides when cornering or maneuvering around obstacles. Specialty tread patterns are designed to provide better grip in specific conditions such as wet weather, off-road terrain, and high speeds.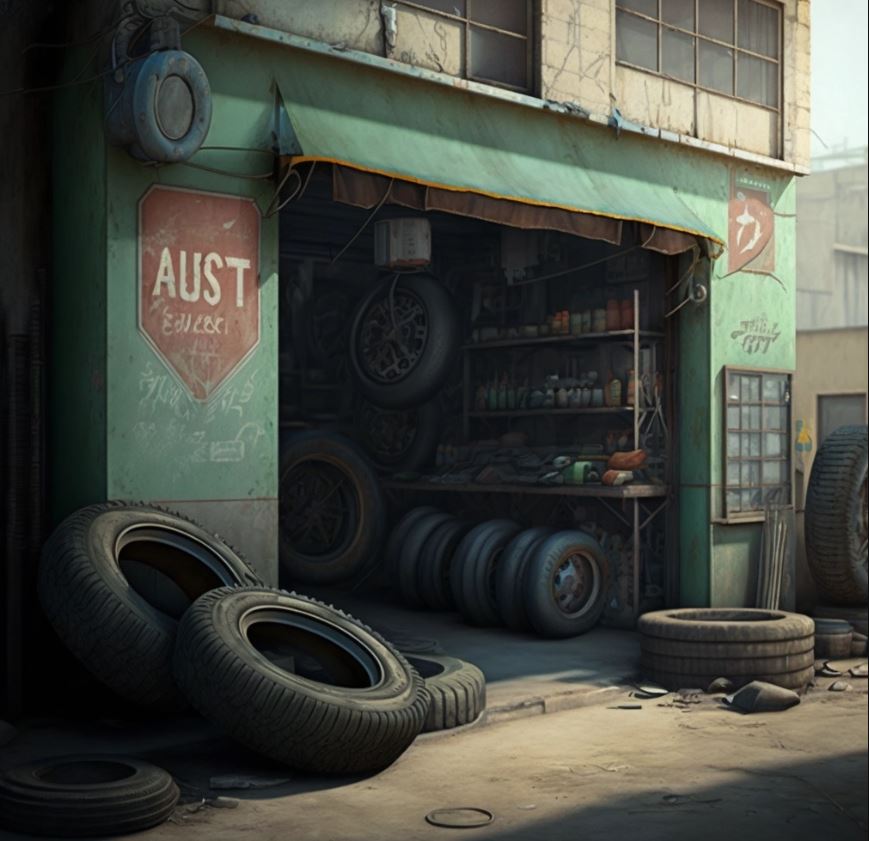 For example, an aggressive knobby style pattern is often used for off-road riding as it helps maintain traction over dirt surfaces that may be soft or muddy due to rain or other factors. On the other hand, slick tires with no tread pattern at all are often used on race tracks because they provide maximum contact with the track surface which helps maximize speed and agility while cornering.
Many touring tires have directional treads that offer improved performance when traveling in one direction only – forward motion – which makes them ideal for long rides where sustained speed is desired. These specialized designs help keep your bike stable under various conditions so you can enjoy more control during your ride regardless of whether you're going down a dirt path or speeding along a highway.
Is It Safe to Mix Brands and Types of Motorcycle Tires on My Bike?
When it comes to the safety of mixing brands and types of motorcycle tires on your bike, there is no definitive answer. Many riders believe that it is perfectly safe to mix different tire brands and types as long as they are within a similar range in terms of size, construction, and tread pattern. However, others may argue that mixing tire brands can cause instability or even lead to an accident due to the difference in grip between two different manufacturers' products.

In order for you to make an informed decision about whether or not it is safe for you to mix tire brands on your motorbike, consider what type of riding you will be doing with the vehicle.
For example, if you plan on doing mainly highway riding then stability should not be a major concern when considering using mixed-brand tires.
However if off-road adventures are more your style then perhaps investing in matching sets from one manufacturer might offer greater control and overall performance than mismatched tires could provide.
Ultimately it boils down to rider preference; some individuals find that mixed brand/type tires work just fine while others prefer sticking with a single manufacturer's product line across their entire bike build. We recommend speaking with experienced riders who have experience working with both options so that you can get an understanding of what kind of performance each setup offers before making any decisions about which route would be best for your own particular situation.
What Are the Advantages and Disadvantages of Wider or Narrower Widths in Motorcycle Tires?
When it comes to motorcycle tires, one of the most common questions is what are the advantages and disadvantages of wider or narrower widths? In order to understand which type of tire would be best for your bike, you should consider both sides.
The primary advantage of wider tires is improved grip on slippery surfaces such as wet pavement. The additional contact area provided by a wider tire increases traction and provides better stability when cornering at higher speeds. They also help reduce vibration while riding which can be beneficial in long distance rides where comfort is important.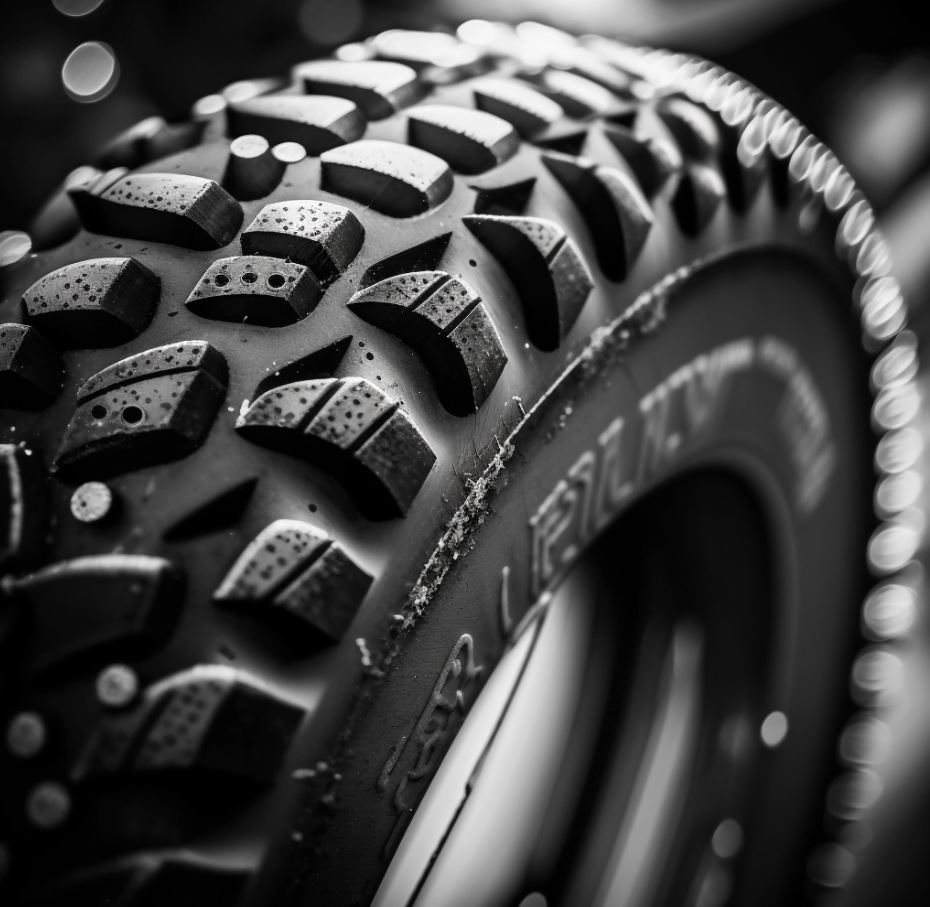 On the other hand, narrower tires have their own advantages as well. Narrower tires tend to weigh less than wide ones so they require less effort from the engine to spin them up meaning that more power can be put towards acceleration instead. They also provide quicker turn-in response due to their reduced gyroscopic effect making them ideal for tight corners or tracks with many turns.
Narrow tires are typically cheaper than wide ones since there's less rubber used in production costs leading to a lower price point overall.
It's important to consider both options when selecting motorcycle tires for your bike since each has its own unique set of benefits and drawbacks depending on usage conditions and personal preferences. Ultimately, choosing between wider or narrower widths will depend on your individual needs but having an understanding of each option can make finding the right tire much easier in the end.
Are There Certain Types of Terrain That Require Specific Tire Types for Maximum Safety and Performance?
Yes, there are certain types of terrain that require specific tire types for maximum safety and performance. For instance, if you're riding on wet or muddy terrain, tires with more aggressive tread patterns will provide greater traction and stability. On the other hand, if you're mostly driving on dry pavement then a slick tire is your best bet for achieving optimal performance.
Off-road motorcyclists should also pay attention to their tires depending on the type of terrain they plan to ride through. Rocky trails may require heavier duty knobby tires while sand dunes would benefit from lighter paddles designed specifically for off-roading in soft surfaces. Riders who frequently switch between street and dirt roads should look into dual sport tires which offer a combination of both road grip and dirt traction suitable for varied conditions encountered along their journey.
No matter what type of terrain you choose to ride on it is important to select the right tire model according to your bike specifications as well as the kind of environment you will be traveling through. Taking these factors into account can make all the difference when it comes to ensuring your safety while enjoying an unforgettable experience out in nature.