Hey, recently I've been given an opportunity to test some Pirellis off-road tires this is the Scorpion MX Extra X this is basically their training tire their value tire their practice tire is designed to give you a wider range of performance in terms of the soil conditions it's good for but it's also designed to give you predominantly more lifespan. 
For how long you've been using the Pirelli Scorpion MX Extra X tire?
I've been using this for almost a year April 2014 is now almost February 2015 so this thing's really been going for a long time let me give you some specifics on what I'm using and where I'm using it this is a 190 19 on the rear it's available in 100 110 and 120 specs both for 18 and 19-inch rims this bike is a yz125 of the front I have the 8121 it's only available in that size for front tire so it's gonna fit most modern motocross and offroad style bikes now this tire like I said is designed to last a long time so they've done that by adjusting the rubber compounds they soften the rubber from what was previously available it's replaced the MX extra and basically that just keeps it from slipping as much on hard terrain it's also to help keep it from chunking out as much and if you'll notice on this tire there's virtually no chunking anywhere so I've been extremely happy in that regard now because it's a 125 it's not a high horsepower bike it's not a high torque bike. 
However, this tire is spinning constantly and breaking loose constantly because you have to keep the RPMs of the motor up so it kind of only works when it's broke lose a little bit and so that can be very hard on a tire as well but in terms of the way I've used it here's how much I've ridden with it I've got it I have three 90-minute GP races on it I've done several days of motocross on it both locally here in Southern Oregon and after Google and also I've got probably 15-day rides on it just trail riding those are two to four-hour sessions that's a conservative estimate I may have upwards of maybe 20 days on it but this thing has really really lasted. 
How is the Pirelli Scorpion MX Extra X tire in terms of performance and traction?
Let's talk about we talked about the compound but how about the structure here the tread block pattern you're going to find these bridges in-between those give us some extra rigidity also the pattern here is you'll find a straight set of knobs and then a slight bow tie then another straight one and bowtie straight knobs are great for breaking the bow ties are aimed a little bit more at acceleration now in terms of the performance and traction it definitely does good traction it's not as I've run Forellis mid soft and mid hard in my local area and I actually like their performance a little bit better but I prefer this tire overall because it lasts so dang long so it gives you good performance across the spectrum just like Pirelli says it's gonna get you anywhere it doesn't do great in super soupy conditions so a mid soft all the way up to hard pack on rocks it's not real grippy pretty especially like with like moose or bouldery style rocks that tend to roll when you're on the breaks that's been an area where I have noticed that these aren't as awesome either but decomposed granite I've written them there I've written am a regular dirt. 
Is Pirelli Scorpion MX Extra X tire consistent?
It's a very well rounded tire now the performance for braking and acceleration are great there's no vagueness to this tire the one thing I like about the rear is that it's consistent everywhere even if it's not giving you as much grip as you'd like it doesn't ever come you never think you have more and all of a sudden it goes away or anything like that so the rear tire is very consistent that way and it does live up to its name both in terms of what it doesn't for grip and performance but also how long it lasts I've never had a tire last this long this is going to be a budget tire I'm somebody who likes to get the most money out of their stuff so I like this I'm even going to continue to use it longer than it's already been a great looking tire it's available from mini bikes as well that's the MX extra J exact same construction everything to it is just for smaller bikes great for parents because if you don't wanna be replacing your kids tire all the time they're probably being whiskey on it and what not this is a great tire for kids as well.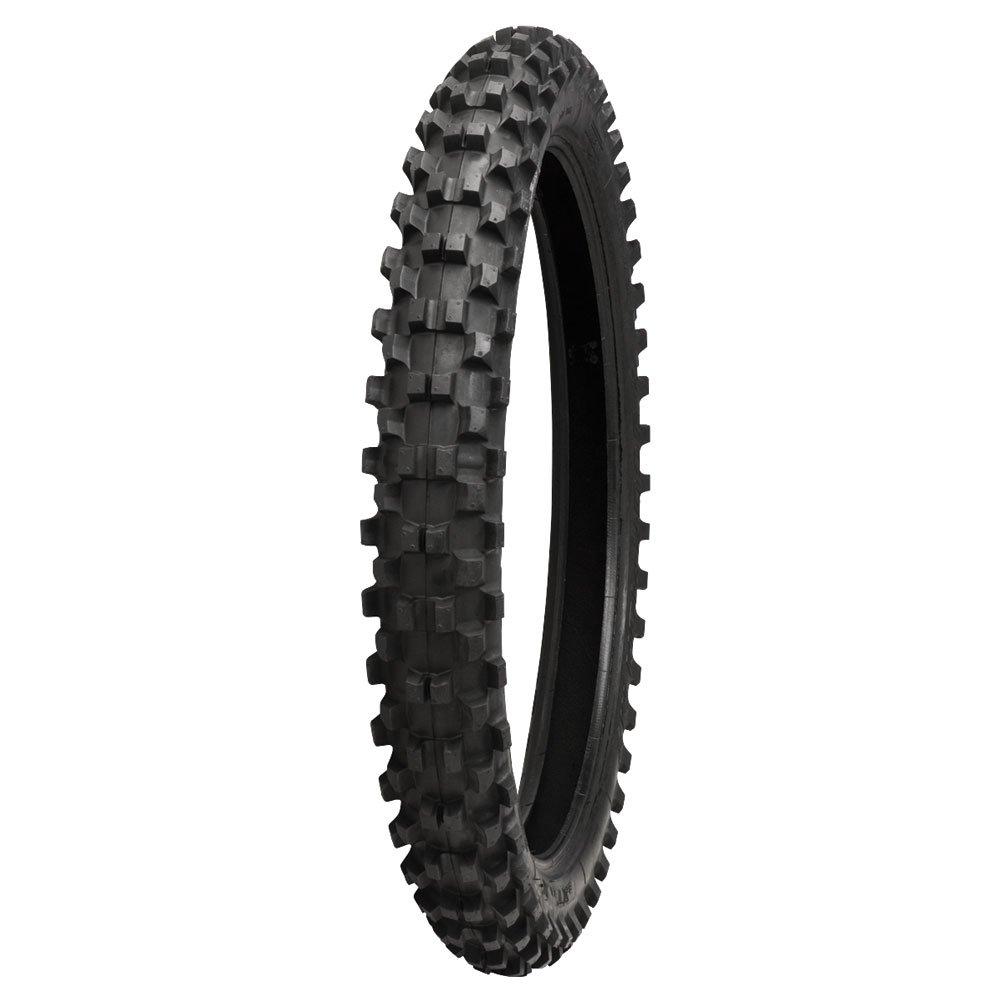 Are Pirelli Scorpion MX Extra X front and rear tires equally good?
So let's talk about the front end very briefly now the front was not quite as impressive as the rear tire in terms of performance it does have a little bit of vagueness to it now straight line breaking is no problem the only time I notice really any hindrance from the tire was on really hard pack conditions doesn't get a lot of bites but also mostly the big problem I had is trying to climb out of ruts sometimes it bites and climbs sometimes it doesn't when you're trying to stay on the high edge of a rider if you're trying to side hill sometimes it'll stay there like velcro and other time it just falls right away so it's a little bit hard to judge the front in those particular situations otherwise. 
I'm very happy with that one as well now you're looking at about one hundred and ten bucks the full retail on the front the rear tire depending on which size you get is going from like 110 to 135 full retail you can find them on sale for cheaper than that and considering the name brand considering how long they last I think think that these are like legitimately twice the value of most tires out there.