Introduction to Michelin's Newest Power Tires
As we delve into this review, our focus will be on the latest offerings from Michelin's stable – the Power 5 tires. Displayed prominently on my table are two of Michelin's freshest entries. On my left, the Michelin Power 5 takes center stage, while the right side of the stand proudly presents the Michelin Power GP. While there are multiple power tires currently available on product pages, it's essential to understand that these two are the latest in Michelin's line.
Over time, as Michelin continues to innovate, we anticipate that these will gradually replace the older models.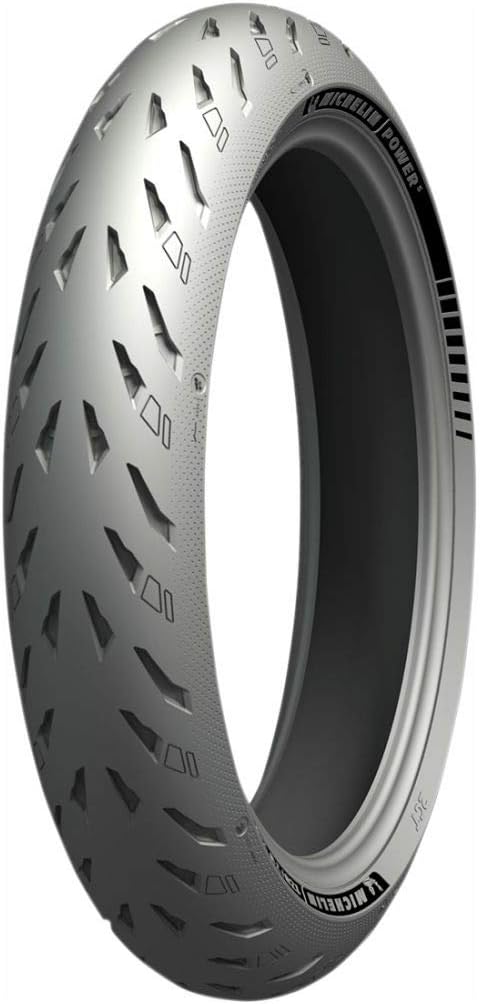 The Sporty Nature of Michelin Power 5
The Power 5 tires by Michelin are specifically designed keeping in mind the sporty nature of naked sport bikes. These are crafted for riders who primarily hit the streets with fervor, perhaps occasionally indulging in a track day or two throughout the year. Within Michelin's vast array of offerings, the positioning of the Power 5 is quite clear. For riders leaning more towards frequent track days but also enjoy street rides, Michelin's cup series would be the go-to choice. On the other hand, if longevity with a dash of sporty performance is what you seek, the Road 5s might be your best bet. However, when it comes to a balance of sporty essence primarily for street usage, the Power 5 stands out. And to provide some variety, Michelin offers two variants: the Power 5 and the Power GP. The main distinction between them is their tread pattern.
Consistency in Tire Composition
Despite the differences in tread patterns between the Power 5 and Power GP, it's noteworthy that their overall tire composition remains consistent. This uniformity in composition ensures that riders get the trademark Michelin quality, irrespective of their choice between the two. Whether it's the Power 5 or the Power GP, Michelin guarantees a riding experience that's both exhilarating and safe.
Michelin Power 5: Pricing Overview
When considering Michelin's Power 5 tires, one might assume that differences in composition or design could lead to price disparities. However, as we dive deeper into the details, it becomes evident that the price remains consistent. The Michelin Power 5 and its counterpart are priced within a range that spans from approximately $140 to $225. Thus, for those contemplating purchasing a set, you're looking at a total expenditure slightly under $400.
It's also worth noting that with Rozilla's price match guarantee, customers are assured the best deal in the market, ensuring maximum value for your investment.
Deciphering the Composition
At a glance, the Power 5 and its variant might seem identical in composition. However, subtle differences cater to distinct riding preferences and conditions. The Michelin Power 5 is tailored for those who prioritize enhanced street performance, especially under challenging conditions like rain or encountering debris. Its design ensures stability even at higher speeds. Conversely, with the Power GP variant, there's a noticeable reduction in tread, a design choice aiming for a different riding experience. Yet, a common thread between the two is Michelin's acclaimed 2CT and 2CT Plus technology.
Michelin's Dual Compound Technology
For those unfamiliar with Michelin's 2CT technology, it's a groundbreaking innovation that the brand has championed for years. Although dual compound technology is leveraged by other manufacturers, Michelin's 2CT stands out with its distinctive approach. The essence of this technology lies in the strategic use of two rubber compounds: a harder strip down the tire's center to ensure longevity and a softer strip along the sides for optimal grip.
Breaking Down the 2CT Design
Digging deeper into the composition, Michelin's front tires, irrespective of the variant, employ the regular 2CT design. This entails that around 68% of the tire's tread (the central part) is made of the harder compound. This is flanked by the softer compound, occupying about 16% on each side. However, the rear tires take this a notch further with the 2CT Plus design. Here, the harder strip covers 55% of the tire's middle. The softer sections on either side are expanded, covering roughly 22.5% each. This broader softer strip aims to ensure maximum stability during cornering.
The 2CT Plus Advantage
What sets the 2CT Plus design apart is its layered composition. Beneath the softer top layer lies a harder area embedded within the tire's carcass. This configuration enhances aggressive cornering stability. By having the harder compound underneath, the tire retains its shape better, ensuring a safer and more controlled ride, especially during sharp turns.
Michelin Power Tire 5: Profile and Design
One of the first aspects that riders observe when examining a tire is its profile.
With the Michelin Power Tire 5, the profile adopts a discernible distinction from other offerings in the market. While many tires from different manufacturers present a steep curvature, the Michelin Power Tire 5 diverges with a subtler, more rounded design. This nuanced shape offers a steady, predictable turn rather than the rapid turn-ins some riders might experience with steeper profiles. By observing the tire, especially from the front or one of its sides, this gentle curve becomes apparent, with a consistent roll rather than a sharp peak and rapid drop-off at the center.
Power 5: Ideal for Street Use
Riders seeking a tire primarily for street use, especially those desiring an aggressive stance without the intention of hitting the track, will find the Power 5 a suitable match. What stands out in the Power 5 is its abundant siping. Throughout its tread pattern, the siping is not only more extensive but also deeper, enhancing the tire's performance. Additionally, the tiny dimples that adorn the sides further improve grip, particularly under wet conditions or when encountering typical road debris. This attention to detail underscores Michelin's commitment to safety and performance for everyday riders.
Comparing Power 5 and Power GP
At a glance, the Power 5 and Power GP might seem similar. However, when delving into the finer details, key differences emerge. The Power GP, for instance, lacks the additional siping that's evident in the Power 5. Those unique side dimples? Absent in the Power GP. Such design choices render the Power GP as a more aggressive tire. When considering riding conditions, the Power 5 shines for all-weather use, especially in unpredictable rain. On the other hand, riders who predominantly journey in dry conditions, with only the occasional drizzle or those focusing on track conditions, will find the Power GP's maximized grip an asset.
The Evolution of Michelin's Power Tires
Michelin, a name synonymous with quality and performance in the tire industry, has an extensive range to cater to different riders with varying needs. For enthusiasts engaged in frequent track days, Michelin's Power Cup series stands out as a top recommendation. But, the landscape of Michelin's offerings, especially in the 'power' category, can sometimes be labyrinthine for many, with multiple versions and nuanced differences.
Deciphering the Power Series: Power 5 vs. Power GP
Among the collection, the Power 5 and Power GP tires are the latest entrants, heralding the next generation in Michelin's lineup. While they're relatively new to the market, these tires are primed to take the baton from the outgoing Power series, embodying advancements in technology and design. Both these tires have been crafted with a specific audience in mind: sport bike and naked sport bike enthusiasts. These riders often seek a blend of performance and reliability. But with performance, sometimes comes a trade-off.
Performance vs. Longevity
Riders looking to extract maximum performance from their machines might lean towards the Power 5 and Power GP. These tires offer excellent grip, responsiveness, and confidence, especially when leaning into corners or accelerating hard. However, as is often the case with high-performance components, there might be a slight compromise in terms of longevity. In other words, while these tires deliver exhilarating rides, they might wear out a tad quicker than other tires designed specifically for longer durability.
Conclusion
The world of motorcycle tires can be intricate, with each offering tailored for specific needs. Michelin, with its rich legacy and commitment to innovation, has consistently provided riders with options that marry performance with safety. The Power 5 and Power GP are shining examples of this dedication, catering to riders who prioritize performance. While they might not be the ideal pick for those seeking extended tire life, they certainly promise an enhanced riding experience. Ultimately, choosing the right tire boils down to understanding one's riding style, frequency, and conditions. And with Michelin's broad spectrum of choices, there's undoubtedly a perfect match for every rider.