Hey, this is Gerard, welcome to our detailed breakdown of the new Michelin Pilot Road 4 tire so as you can see in front of me I have two sets of tires I have a Pilot Road 3 which lives on the bottom and I have my new Pilot Road 4 which lives on top new for this year again improving on what was one of the best tires we've ever seen for the sport touring community in the pilot earth 3 is now the Pilot Road floor and the big things that they're calling to action are better handlings but increased longevity.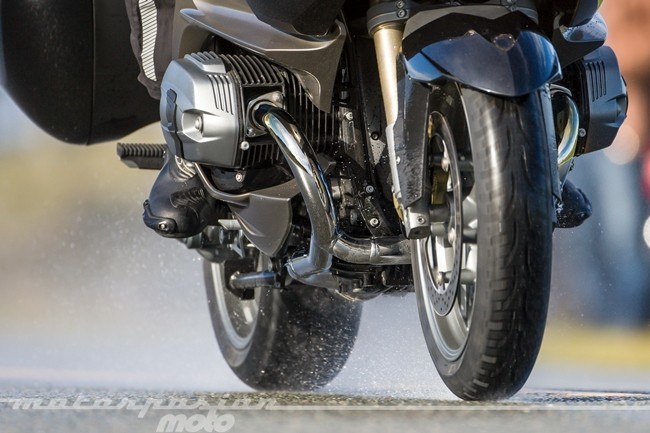 If you can believe it in a sport touring sense they're they're claiming that we're gonna get 20 better life span out of these tires I'm gonna walk through each of these changes one by one but let's break down why you would use this tire because remember the Pilot Road floor we always in in many cases we called the Pilot Road three the goldilocks of tires it was just right for so many applications the pilot rode four only continues that so you have three versions the pilot rode four which both the front and rear both dual compound and they're going to be 17 inch rims throughout then you move into the Pilot Road 4 gt which is for bigger touring bikes for grand touring bikes with luggage two up riding think of something like an r-1200 rt that would do well with a bigger heavier carcass and again a stiffer tire and then you move up into the Pilot Road 4 trail which is really going to be used for big dual sport bikes like a 12 gs ktm 990 adventure you're gonna get different front tire sizes. 
Are Michelin Pilot Road 4 Trail on-road tires?
That's exclusively an on-road tire remember this is great for handling as well as longevity in road riding scenarios all season silica charge compound which I have tweaked for this newer version and again you can see all of the siping as well as the tread pattern which is very aggressive to give you phenomenal grip and handling in multi-season riding scenarios now let's take a step back and let's walk through the tires one by one let's talk about some key commonalities here like I said they're both dual compound tires meaning they're going to have a harder compound in the middle with a softer compound out into the wings now on the front tire compared to last year you're going to see a few key changes remember this is the pr3 on the bottom Pilot Road 3 and this is the Pilot Road 4 on top first thing they've done is you're going to notice a decrease in the siping a decrease in the land to see or the groove pattern or the tread pattern and what that's going to do especially when you get out here onto the side walls is it's going to create more surface area for more grip so they're trading off some of the siping some of the water ejecting qualities to give you more dry grip and better grip handling more rubber on the road. 
Have Michelin Pilot Road 4 Trail tires improved the stability?
What they also found was under heavy braking, especially with bigger bikes this bike had so much siping and such a wide tread pattern that it tended to be a little more flexible than people were expecting under heavy braking so you're getting an improvement there from a stability side of things now I will call out it is still dual compound but it's going to be medium in the center and softer on the sidewalls that is the same as how it was in the previous Pilot Road 3 version now we move to the rear there are a few other changes that are going on remember it's now exciting plus technology just like on the front versus regular x-type which again changes the siping pattern again still great for water ejecting but now you're getting much more rubber to road especially out here on the sidewall again new silica charge compound but here's the big key of this 20 increase in longevity. 
Difference between Pilot Road 3 and Pilot Road 4?
The previous version the Pilot Road 3 was medium through the center and it was 80 percent of the tire and soft way out on the sidewalls 10 on both sides now when you move into the Pilot Road 4 complete change 20 hard down the center so your rubber on the road and upright acceleration that power strip where all that power is hitting the ground that's going to be a harder compound there's a big increase in longevity by doing that and what you have is 20 down the middle and you have 40 on either side which is going to be a medium compound so now your rears have no soft compound so again you're getting that better longevity the better hold up it's going to last longer for you and remember tire companies are like alchemists every year they're working on different compounds to increase the longevity as well as the performance of these tires so it is a completely new style of rubber if we look down here you're gonna even see the sheen is different on the pr4 it's much more of a matte finish. 
In this guy the oil compound looks slightly different and again the tread pattern is optimized for better performance in wet weather and dry weather at higher lean angles along the side now I will call out one key difference if you get into that Pilot Road for trial or trail tire which again remember is for on-road dual-sport adventure bikes the rear compound is going to be similar to the pr3 which means it's going to be a medium and a soft versus a hard medium on the Pilot Road 4 gt and the pilot rode 4 in its simple or regular version so keep in mind too guys we're getting these bad boys early season we haven't had a chance to put a full riding season on them I'm sure our comments are going to change as we move along and as with any Michelin tire to this degree it probably will have a thousand comments so make sure you check the tire size for your bike.