Hey guys so this is a review for the Michelin Anakee Adventure Tire and I want to get one thing out of the way right away this is a tire with 8,000 miles on it and it's still got some life left in it so now that we got what's the mileage out of the way that that tire actually came off a BMW are 1200 GS and then it went on to a KTM 1290 super adventure T yeah with the 17-inch rear so that that tire has been under some heavy load on there some big horsepower bikes so that should really speak to the longevity that's tired now Michelin's done a really great job of packing a ton of technology into this tire so let's get into that a little bit.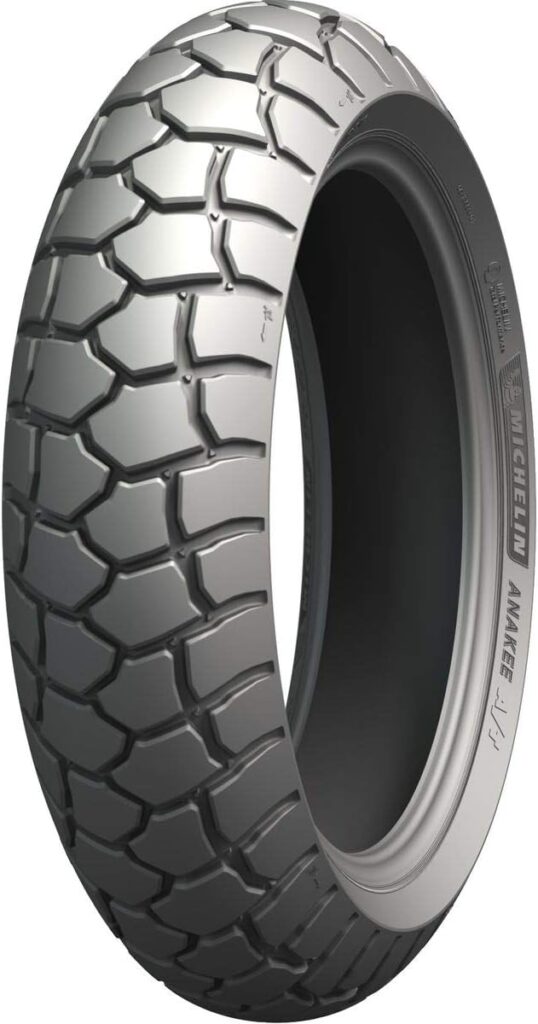 The sidewall of the Michelin Anakee Adventure tire
First off all, I want to mention the sidewall the sidewalls are real thick which is gonna help prevent you from denting a rim when you air down and try to go off-road and you end up smashing it with big rock the next thing is the tread pattern on this tire so michelin has gone in and thought okay we want to 80/20 tire 80% on-road 20% off-road we want good longevity so to get good longevity out of that tire you just have to put more rubber on it so the center of the tire is packed with you know tighter tighter tread pattern but as you get further out on that tread pattern the blocks are spaced a little bit bigger which Michelin has done that on purpose so that way when you start leaning that bike over and you need more traction which is when you need it the most off-road when you have it leaned over it evacuates you Scrabble better and it actually gives you more traction so instead of it going from I've got traction in a straight line to no traction all leaned over you actually get more as you start to lean the bike over and that's important when you get into these situations where you might come into a turn too hot or you're starting to slide the rear the more you slide it actually the more grip you get which is kind of a nice profile and it just allows this bike to you know it allows you to push the bike in a way that feels natural like it's not like oh you know straight up and down. 
Dual Compound Technology
Now I'm on my head this tire also has dual compound technology in it so the front tires straight dual compound kind of normal all the way through the rear tire has a softer compound at the outside just kind of laid in there like a little a little pocket of it which gives you more stability when you have the bike leaned over and you've got it all loaded up and you're on the road no squirms no stability issues whatsoever the fight this tire went down the road just flawlessly but that also equates into a really good tire manners when you're offered because it's our compound when you're in the 80/20 market is is almost more important in the tread pattern because that's where you're really getting all your traction from what does that really mean it really means that this tire just gives you this smooth profile that feels natural the whole way through the lean angle instead of like I said straight up and down so on your side which that's going to be important for for the people who want to really explore and take this tire offroad because you could be going down the trail or down a two-track Road and things could be kind of normal gravel and then all of a sudden get a little rockier and a little rougher and that's where this tire is gonna kind of bail you out of trouble. 
This tire also has block bridge technology which is a piece of rubber between some of the outside tread patterns and what that does is it also links the tire together when you're on one contact patch to the next and it allows you to have more stability when you're in a deep lean angle and you're trying to you know get a turn done you don't get that squirm that you can get out of some other tires when it comes to the competition I don't really think that there's a better tire choice for the 80/20 market than this tire I've written the ones from the major manufacturers Pirelli Bridgestone Metzler and this one is right up in there and that that 80/20 mark and really because of some of the stuff you get when it's off-road and you get it leaned over.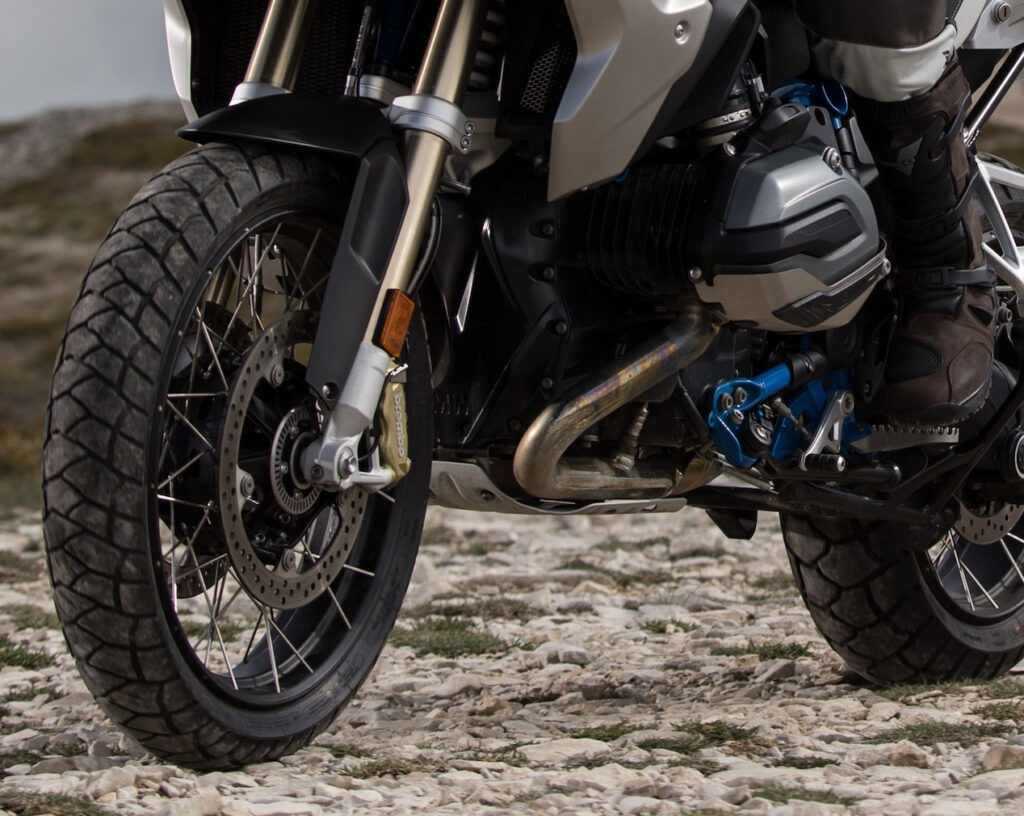 70/30 or 80/20 tire?
I'd almost put it in a 70/30 just a little a little bit some of the shortcomings for this tire are gonna be the obvious ones how is it in deep sand it it's 80/20 tire so deep sand is going to be an issue how is it in mud and mud it's 80/20 tire there's no real bitey block in there  it's real slippery so don't expect this tire to do things that it can't do which none of the 80/20 tires can can handle deep deep sand it's gonna come down to your riding technique which if you were riding technique is lacking that's you can't fault the tires you can push an 80/20 tire harder than somebody who doesn't know what they're doing on a 50/50 tire any day so never forget that your skills are really going to determine what tires the best for you off-road as well but if you're in the market for that I think these Michelin Anakee Adventure are just the way to go it's a great 80/20 tire and I think that's it it's hired oh dude that's not good you got a hole in your engine case we'll just we'll just put these ear plugs in it it'll stop the oil this chain popped all this bike in a broken engine case and its phrase oil everywhere we got to try to fix it yeah all we gonna do is plug that little hole in there and then we can get to this Auto Zone and j-b weld it hopefully this is a 10 it's a 10 for your kind of job with it's pretty good. .