What you're seeing on this on this bike right now the rear tire is that Kenda makes I basically attribute some of the falls that you saw in the first segment of this segment to the candidate not happy with it at all when you buy a dual sport tire they come in various percentages Street and non-pavement in that haven and essentially when you look at that's just two things right well there's actually three surfaces to consider so you kind of get kind of there's no formula but you've got to kind of play you know it kind of wave one against the other and the other criteria is the types of surfaces that fall into those categories and I break those down into three subcategories and a little bit.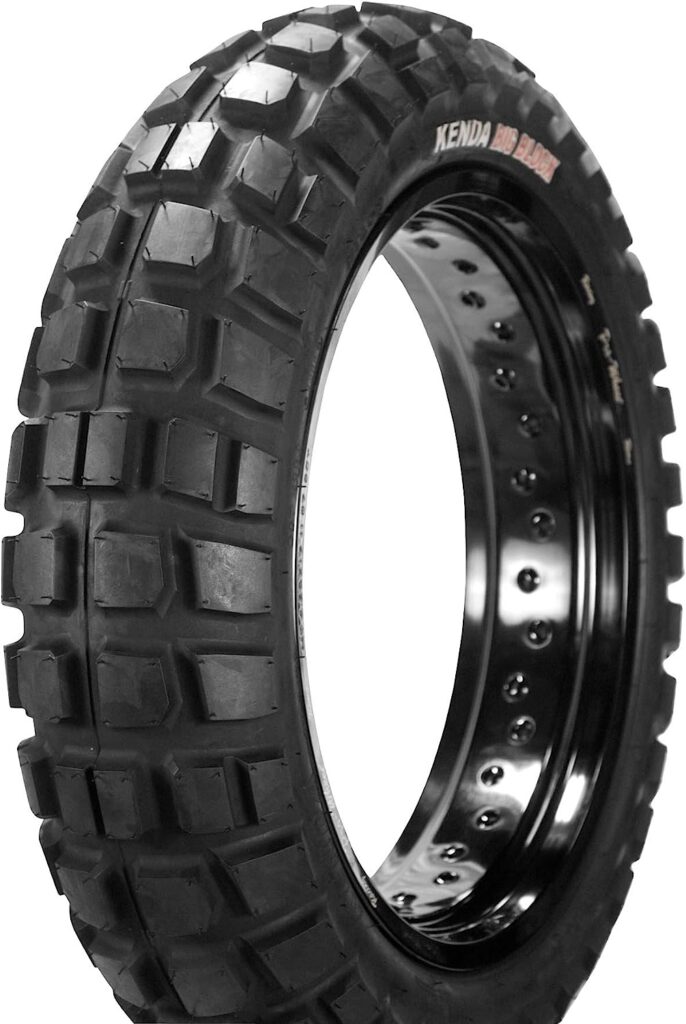 What are the 3 subcategories of tires? 
The three subcategories for your doing sport tires are your hard surfaces your intermediate surfaces and your soft surfaces if that sounds like how you rate motors motocross tires well I got a motocross background that's why that's why I use those criteria are those descriptions and of course they're different but for hard essentially that to me is anything that is is pavement or a hard pan surface and a hard pan surface is a is a hard surface that might might contain gravel and dirt but it's been packed down it's hard you know and it's to the point that you should have some type of traction and usually hard and it's very rough okay the surface that I wiped out on on the the trans Florida was a hard pan surface and there was really no reason for you know why why I lost traction on the rear tire in that case the intermediate your intermediate surfaces are very simply your gravels and your and your dirt you know just moderately loose surfaces that you know you can get some traction in those surfaces and then the soft is just you know basically your sand and your mud. 
So you got you got your hard surfaces you got your intermediate services we got saucers so when I pick a 50-50 tire 50/50 dual sport tire I expect that it will be I can't say perfect but I expect expected to be really good on hard surfaces I expect it to deal on the pavement not as good as a street tire pretty close okay in the intermediate range of 50/50 is going to be fair it's going to be reasonable if you got experience you're going to be able to deal with very loose surfaces of gravel and dirt and on a 50/50 tire and then in the the soft surfaces like sand and mud well your left your skills at that point and you're gonna you're gonna in tight and I knew I was going to encounter that on these on these rides but on the other hand I live in Florida so I my handful I handle sand and mud pretty good I'd rather handle it with a ten ninety AC technician but that wasn't how I was putting KLR 602 gether so here we are with the on the selection we we took that information and I wound up with the the big the big block K784. 
Let me just cut to the chase first of all on the where which which is sort of an offshoot of all those categories it's kind of like well how does it wear well it's gonna wear more on pavement than it is on soft surfaces but it's a 50/50 you're expected to you know it's expected to perform as I'd mentioned pretty good not perfectly on hard surfaces at this point in time I'm at fifteen hundred and seventy miles on this on this Kenda K784 and I am averaging just a little under 40% tried left the speck tread was 11 I'm running about 5 4 in a couple cases and essentially what that means to me is that at 1575 the tires the tires toast a a big black tire a knobby tire you you expect them to have short lives and a lot of that has to do with the fact that you can only go so low on that knob you can't go down to 10% you can only go down to 50% at best you know maybe you can drop down to 40% but but in a knobby situation you just got to accept that people driving around with 10% tread on a knobby really probably had the wrong tire to begin with so bottom line this this tread is already toast I didn't get as good aware. 
What are the pros and cons of Kenda K784 Big Block tire? 
There are a couple of reviews out there that I read and people have pros and cons on tires the cons are always the tread wear on the 784 it's not the end of the world you know the tread wear on my favorite dual sport tire which is a forty sixty which is the t that Conti quench where it's pretty bad too but I love that tire it does everything in the categories that I wanted to do circling back to the kind of big black this tire doesn't do in the category is what you need to do a couple of things if we look at the category separately let's start with hard and hard pan this tire is terrible on hard surfaces wet forget it wet it's literally dangerous you better be holding on and you better be knowing when you hit wet surfaces and corners that you will see in the reviews for this tire what you won't see and I'm going to throw out now it's just as bad at dry surfaces dry hard and hard pan surface this tire. 
After its first 10% of wear something in the compound it lost its ability to grab the pavement or a hard pan surface that had traction because of roughness has just lost its ability and that's the wipeout that I had you know I wasn't going fast and it looked like I was going faster yeah I wasn't gonna faster there 20 bikes went through before I mean 50 after me and none of them wipe out and you can see it was all the back end on that it's just you know the best I could do at that point was hope I could spin it around and keep it standing up but I didn't obviously I just lost it so that is that's the issue that I have in the top category which is the hard surfaces this let me give you an example of a dry pavement problem you will come into an intersection with this you'll stop at a red light and when you don't say you're turning right as you turn right giving reasonable and non excessive throttle you'll spin the tire I do it all the time and it's like you know it's ridiculous and it's because the tire cannot hold it's it's cannot hold a grip on the pavement tracking it.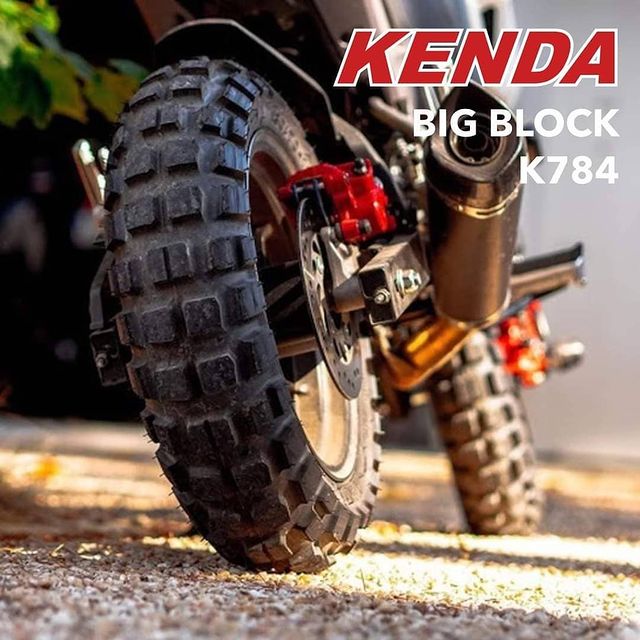 At that point it's I don't know water you know it's like if it's I don't know where to put the star that doesn't have anywhere but to continue in the intermediate area the intermediate which is your gravels and your and your your dirt for a black knobby tire this this does not when you're sitting in the saddle and you're going down a dirt road and let's just say that your your surface has a one inch deep of rough semi solid dirt so you're you're in something that you can get you feel like you're riding a 80/20 Street Tyler you cannot keep a straight line and it's not your front tire you'll know it's like all of a sudden it'll go wishy-washy on you and I'll tell you what you'll do you'll stop and you look at your tire cuz you'll think you got a damn flat tire it's that motion that you can't you know we've all had flat tires out there it's that motion that is exactly like a flat tire on dirt and gravel and you know I know that's a loose surface and you could say well that's it that's just what what's your what you're supposed to experience and I've been around for 50 years I'm 60 years old and I've been around for 50 years and I do at least a dozen rallies a year in all different conditions so I'm not an expert I'm not trying to tell you I'm an expert I'm just trying to tell you that I know when a tire is not responding to a surface I just I just know and it's not so that. 
How does Kenda K784 Big Block tire perform in sand and mud?
We're now a big thumbs down in the heart surfaces we're now a pretty sizable thumbs down on the intermediate surfaces when we get to the soft surfaces okay you know you can't throw darts at a 50/50 tire for their performance on unsanded mud all I can say is is you know I'll just leave it that you know I guess they did as good on the sand as mud and as any 50/50 tires that I've had but you don't buy him to ride on sand and mud you buy him for really the upper scale the upper two categories the heart and the intermediate knowing that you're just gonna have to suck it up and push it through some sand and mud once in a while which was definitely the case so 1,500 miles 1,500 75 miles and a really bad experience not just the fall but just lots of bad experiences with this tire go look at the reviews just don't take word for it.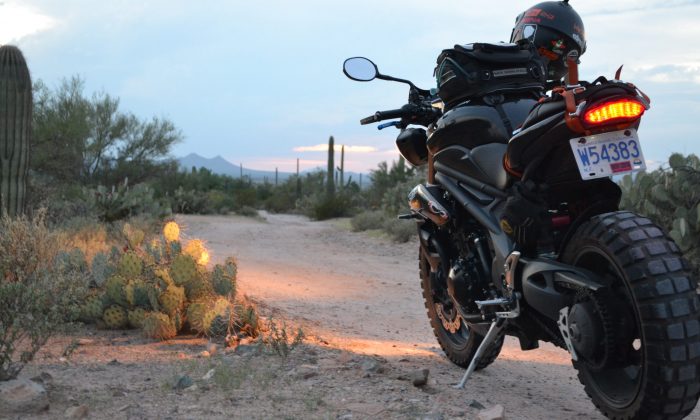 A lot of people have had questions about about this tire go look at adventure pulses review on YouTube they didn't like it too much either they thought it looked good who cares once you're out in the trails you need something that performs so essentially where we're at at this point is the the Kenda K784 big-block gets a you know a lucky three on a scale of one to ten and i can't even throw a lot of pros out there for this for this particular tire it's just it's just I'm giving it a three cuz just you know I'll give you a I tell you what I'll give you three like Advent repulse says looks like a good tire okay that's where it gets the three you do your own research your mileage may vary like everything else but I am looking forward to throwing the candidate case 784 in the in the recycle pile down at my local dealer and I haven't decided on my next set of tires yet it will be in the 50 50 40 60 range but I'm gonna be putting up the the KLR 604 for a couple months now focusing on the klx 215 those rallies.