Hi guys this review is about the Kenda K777F Knarly front tire I think they only make this in one size which is 90 90 21. that's definitely what this one is check out our website I don't think there are any other sizes available sorry this tire's dirty because they just got back from a ride and that's what happens when your item but they their website like almost all the tire manufacturers websites totally sucks. 
Product information about Kenda K777F Knarly tires
When it comes to product information they group the front tires and the back tires together the back tire gnarly is a gummy this is not a gummy so their information sucks I looked around on the internet trying to find some reviews some tests didn't really find much there are some tests on the rears but not the front and I've overlooked this tire we've had this in stock for quite a while and I you know I just haven't got to it yet there's so many tires on our shelf that and so many tires out there on the market that it's difficult for me to get them all tested and I probably never will to be honest with you but anyhow.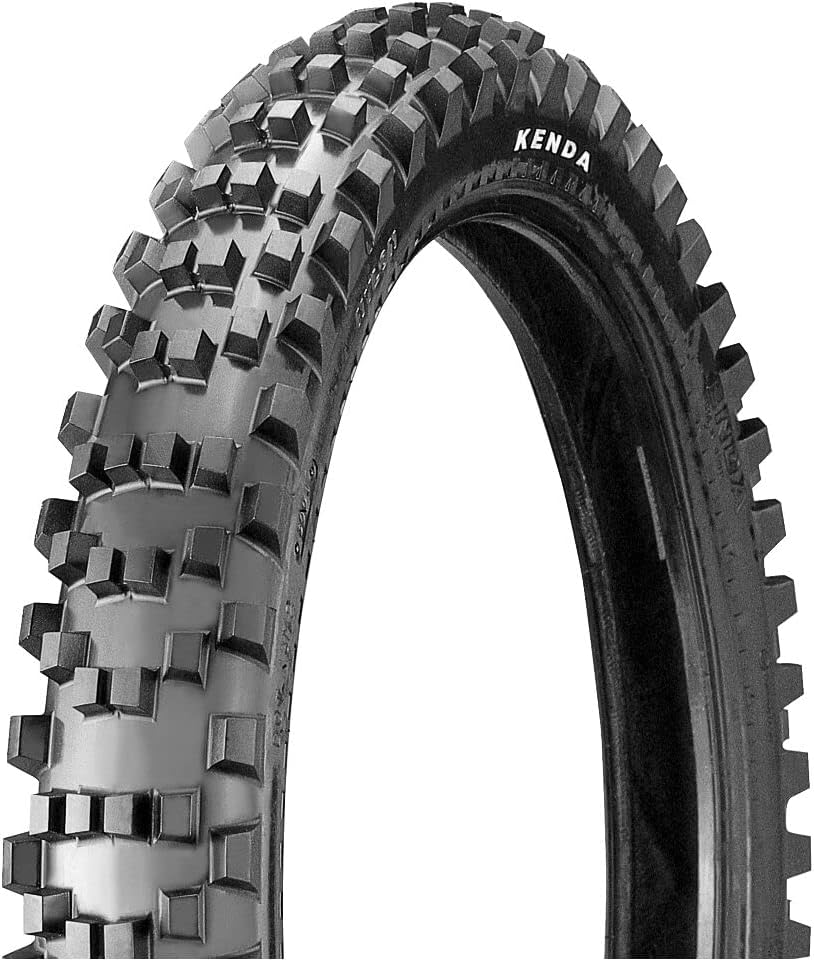 Is Kenda K777F Knarly better than Bridgestone M59?
First and foremost I got to tell you I'm pretty impressed with this tire you know my go-to tire is the Bridgestone M59 and most of you guys know that the 59 is definitely our most popular tire period it's a huge seller for us it's a great all-around front tire it does everything well but it's you know other tires that do things that do things better than it does but it's just a great versatile all-around tire for trails and a lot of guys using for racing as well but what I this is the 59 this is the gnarly kind of hard to tell them apart I think the kent engineers did some testing on the 59 decided to copy it but who knows anyhow the difference between 59 and gnarly is that the gnarly is has more substantial carcass to it it's a three-ply carcass. 
I'm pretty sure that the 59 is a two-ply that x-reply makes this tire well one thing it really does that I really like is it's more compliant it absorbs the smaller rocks and roots and square edge stuff better you know it's it just absorbs it you know there's little some smaller root sections that I ride regularly that it's almost like they're not even there it's almost like you did a another small upgrade to your suspension and this bike already has excellent suspension it has the savings mule cartridge system in it this bike for our conditions handles exceptionally well and this tire makes it feel even better so I i kind of contributed that to two things one is a little bit softer rubber compound they call this a medium compound tire it's about a 65 durometer whereas most front tires you know motocross front tires are in the 75 durometer range even up to 80.
Does the Kenda K777F Knarly tire have a soft or hard rubber compound?
So they're a harder rubber compound so this little bit softer rubber compound combined with a better carcass or more substantial carcass is what I think is what makes it absorb the rocks and roots better that carcass will also give it more puncture resistance and should make the tire last longer 59s at around 150 to 200 miles they start the carcass starts to degrade on them and then at that point, I put more air I increase the air pressure because the carcass starts to get soft I've not felt that on this tire yet although I have changed the pressures around which I'll explain here in just a second so when I first mounted this up about a month ago so this one's got this one has about 200 hours 200 miles on excuse me because I put it on the same time as I did the rear jx-8 anyhow it has not developed that squirmy feel but when I first put it on I ran 11 psi on it and I was doing tighter more technical stuff no higher speed things. 
I did ride it in the rain the very first day and I wrote it in very magic dirt conditions and now I'm writing it in extremely dry slick dusty kind of miserable conditions but it performed really well those first few rides because I was doing lower more technical stuff but then when I got into some faster rides when I'd stuff it in the corners it kind of gave me a vague feeling that I didn't like so I increased the tire pressure from 11 to 13 and that feeling went away now I think if you're a high-level racer guy you know do an off-road basis that you know this tire probably is not for you I talked to randy Hawkins he runs the ampro Yamaha team which is a very dominant team this year in the GCC circuit and.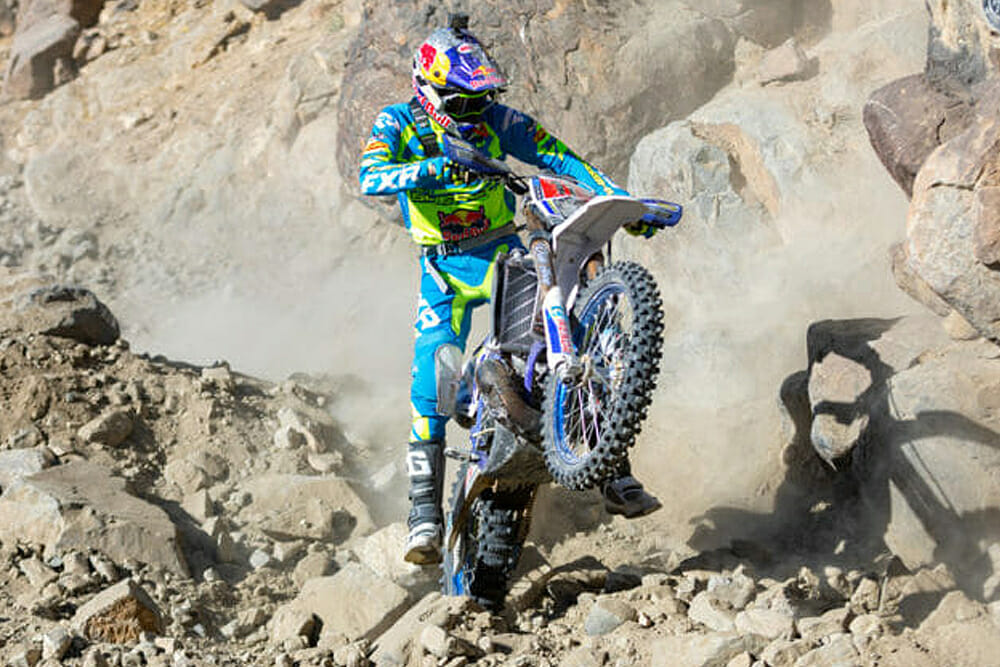 There's I believe they're sponsored by Dunlop now but they used to be sponsored by Kenda and he said that their racers did not use this tire they thought it had excellent traction in the rocky conditions but the high-speed staff and those guys and their level of high speed is definitely higher than most of our levels that's mortals level of high-speed high-speed sections they felt like it rolled because I don't know what they had in there they run mooses I don't know what moose they had I could have affected as well but for the average guy I'd say this tire is damn good under all conditions you know might not be the best if you ride nothing but high speed stuff I probably wouldn't be my choice for that but for most trail conditions I think this tire is pretty hard to beat. 
What is a price of Kenda K777F Knarly tires?
I don't know the price point sorry guys I forgot to look it up before I started this review but you know it's it's nothing outrageous it's a probably in this 70 or maybe 80 dollar range I don't really know as you can see here I do run tubeless which I run you know there's the two tubeless things as I i use tubeless on my bikes and I definitely think it's the best way to test tires because I can fluctuate the pressure a lot of tires front and rear you know will work really well at one pressure and really bad at another pressure so I think it's very important to be able to change the pressures around and let people know what pressures work best I'm not a moose person because you know with mousses you're stuck at one pressure that does not work well for me for testing tires also mousses if you run like a regular mousse not a softer mousse they're too stiff I mean they have a you know 13 14 psi feeling to them that's just too much for most tires and rocks and especially the back tires that just really downgrades the traction. 
Let me thank your guys so just to review three ply carcass good for puncture resistance and longer service life of the tire same tread pattern as an m59 which I think is a plus it's not chunking so far like I said this one's got about 200 miles on it I'm gonna run it for another hunter but I don't think it's gonna chunk it doesn't look like it's you know it's not really showing signs of chunking it's wearing well it absorbs rocks and roots well I don't really have anything bad to say about it overall I'm very impressed with it so I'm tired of something you just need to try and see if they work for you I think that this is a good choice and I'd like for you some of you guys to try it and give me some feedback I'm going to be handing a couple of these out to some of my tester guys and see how it works out for them so far I'm the only one testing it but I will get some other testing feedback and possibly make another review down the road.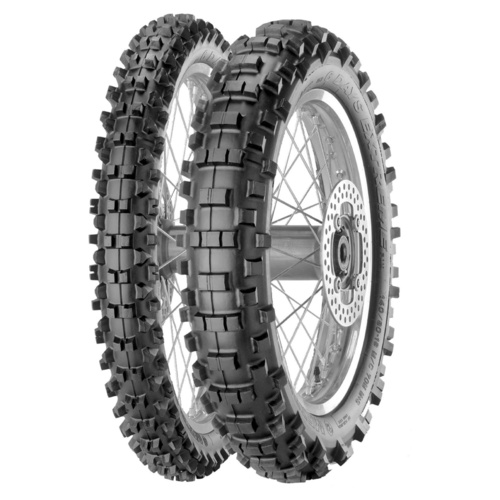 How many miles can Kenda K777F Knarly tire endure?
Like I said I'm going to run this about another 100 miles and I'll be done with it so far so good it's a very impressive tire I think you should give it a shot for trail riding and but the most important thing I'd like you to do is get out and ride I'd also appreciate if you would subscribe to our youtube channel right below in the description the video screen here is a subscribe button you can click on that helps us out we're trying to help you out by giving you information so you can make good decisions on on your purchases and so I'd appreciate if you'd help us out a little bit push that subscribe button also like us on facebook and whatever it is you do on instagram so I don't know I don't look at instagram but check us on that one as well but acting back again to get out and do some throttle therapy there's nothing better than throttle therapy keeper helps you keep your head on straight my wife sometimes almost kicks me out of the house and tells me to go ride if I'm getting a little cranky. 
So that's all for now guys yeah right hi guys it's just an addendum I finally get this tire up to the 300 miles that I mentioned I was going to ride it to and I just wanted to give you one last little wrap on this on this tire plus one of my testers has put some miles on one and gave me some good feedback but let's start with with this tire right here so like I said it's got 300 miles on it now which is a lot for me I usually take front tires off around 250 maybe three at the most for our conditions up here and plus once they get rounded once this part of the knob gets rounded you know they start losing their grip but this tire is still working pretty damn good again I just don't have anything bad to say about this tire it really works well in a lot of places I'm not saying it's the my number one choice I'm not really sure what that is right now I guess it's still the m59 that's still kind of our gold standard the m59 bridgestone. 
Would you recommend these Kenda K777F Knarly tires?
This is human it's a damn good tire and I think you guys should try it and especially if you want any more puncture excuse me if you want any more puncture resistance and a little pleasure ride you're going to get this over the m59 you can see that this tire here you know it's starting to show some signs of the side knobs coming apart it's kind of torn off part of that one and here's some really I'm trying to give you some good close-up pictures here what it looks like there's really not much cracking on top there's a little bit of a crack on this knob right there you know this knot will probably eventually come off if you're four or five six hundred miles but it depends on what your goal is if it's mileage then go buy a hard tire and just deal with it if you want performance then you there's a cost for that and the cost is tires don't last as long so in the front. 
I'm all about performance I can live with kind of a crappy tire on the back on the front when they sort dropping out from under you when when you don't expect them to when they become unpredictable you know that's what I really look for in front tires is predictability and but when they become unpredictable and now then you start turning the throttle the wrong way at least I do you know that makes me tense and tight and I don't have any confidence in the tire and then I turn the throttle the wrong direction so to me a few extra bucks on a good front tire is not a big deal changing them often it's not a big deal I know you're thinking well you get them at dealer cost well profit margin on tires is absolutely horrible the difference between my costing your cost is very very small and so that's not even a deciding just deciding factor so anyhow guys just get this wrapped up I just wanted to give you this last final review on this one of my test riders gave me a thumbs up thought it was damn good tire I think it's a damn good tire I it's not my choice for high speed I would not use it for fourth fifth sixth gear stuff where you're racing really hard at those and those gears at those speeds but for trailhead and I think this is a darn good tire and so that's all for now you