The Dunlop Trail Smart Tire: An Introduction
The world of motorcycle tires is vast and diverse, and within this landscape, Dunlop has consistently been a leading name. Today, I'd like to delve into one of their standout products – the Trail Smart tire.
Designed specifically for adventure bikes, this tire aims to deliver optimal performance primarily on paved roads.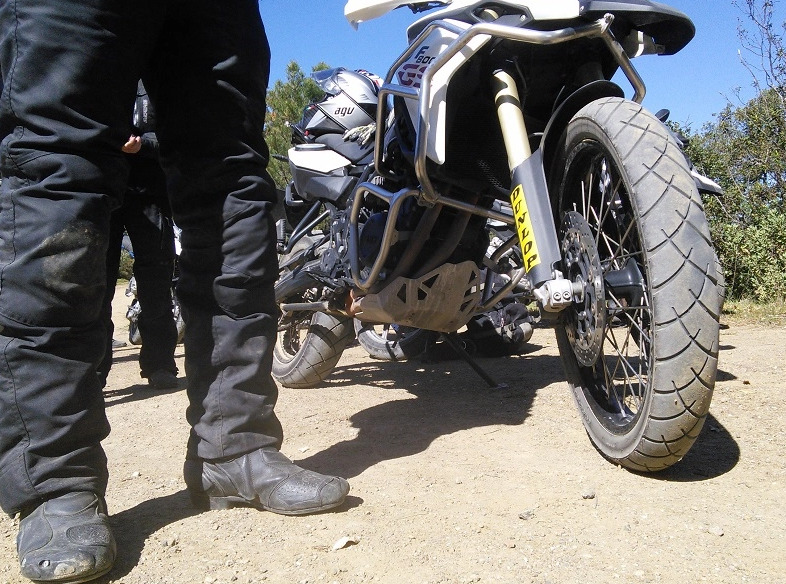 Intended For Adventure Bikes
One of the most striking features of the Dunlop Trail Smart tire is its compatibility with a range of adventure bike sizes. It's available in three main sizes: 17, 19, and 21 inches. This breadth in size options indicates Dunlop's focus on catering to the adventure biking segment. The 17-19 or 17-21 combination is fairly common across various adventure bike models, from the mid-sized variants to the larger beasts of the road.
Comparative Analysis: Dunlop Trail Smart vs. Its Peers
When evaluating the Dunlop Trail Smart, it's essential to understand its positioning in the market. This tire is set to rival the likes of the Avon Trail Rider and the Pirelli Scorpion Trail. These names, like Dunlop, have garnered respect in the tire industry and specifically within the adventure biking community. So, what makes the Trail Smart stand out?
Where Does the Trail Smart Shine?
The Trail Smart tire isn't just another addition to the list of adventure bike tires. It's a product that carries the legacy of Dunlop's excellence and innovation. While it's designed primarily for pavement use, it doesn't shy away from the occasional off-road adventure, ensuring riders get a well-rounded experience. Its design, tread pattern, and durability make it a top choice for those who predominantly tread on tarmac but like to keep their options open for spontaneous off-road excursions. The Dunlop Trail Smart is not just about adaptability; it's about enhancing the riding experience, regardless of where the road takes you.
An Overview of the Trail Smart Tire
At first glance, the Trail Smart tire from Dunlop captures attention with its predominantly smooth design. But it would be a mistake to dismiss it as just another road tire. Designed with a 90-10 ratio in mind, it means that while this tire is optimized for 90% street usage, it doesn't shy away from that adventurous 10% off-road escapade.
For riders who find themselves mostly on tarmac but still yearn for occasional off-road ventures, this tire might just be the perfect fit.
Comparing with OEM Tires
If you've invested in an adventure motorcycle, chances are the tires that came with your bike are quite similar in design and functionality to the Trail Smart. Often, OEM (Original Equipment Manufacturer) tires strike a balance between road efficiency and off-road potential, and the Trail Smart seamlessly fits this mold. So, if you're in the market to replace a worn-out set of OEM tires but still desire that familiar performance and versatility, the Trail Smart should definitely be on your radar.
Construction and Benefits
Diving deeper into the construction of the Trail Smart, one of its standout features is the broad coverage across its centerline. Not only does this design contribute to a quieter ride, but it also plays a significant role in enhancing tire longevity. The broad center design ensures even wear, making it a cost-effective choice for riders in the long run. This tire isn't just about performance; it's about providing value without compromising on the quality of the ride.
Distinctive Tread Design
The unique and broad tread pattern on the tire is immediately striking upon observation. Designed with thought, these broad treads provide a distinct advantage: they ensure excellent dirt and rock ejection. Unlike tires intended for more aggressive terrains, which need deeper treads to handle thick mud or sandy landscapes, the Trail Smart focuses on shedding smaller debris. It excels at clearing out common road and trail impediments, making it ideal for hard-packed dirt and light gravel roads.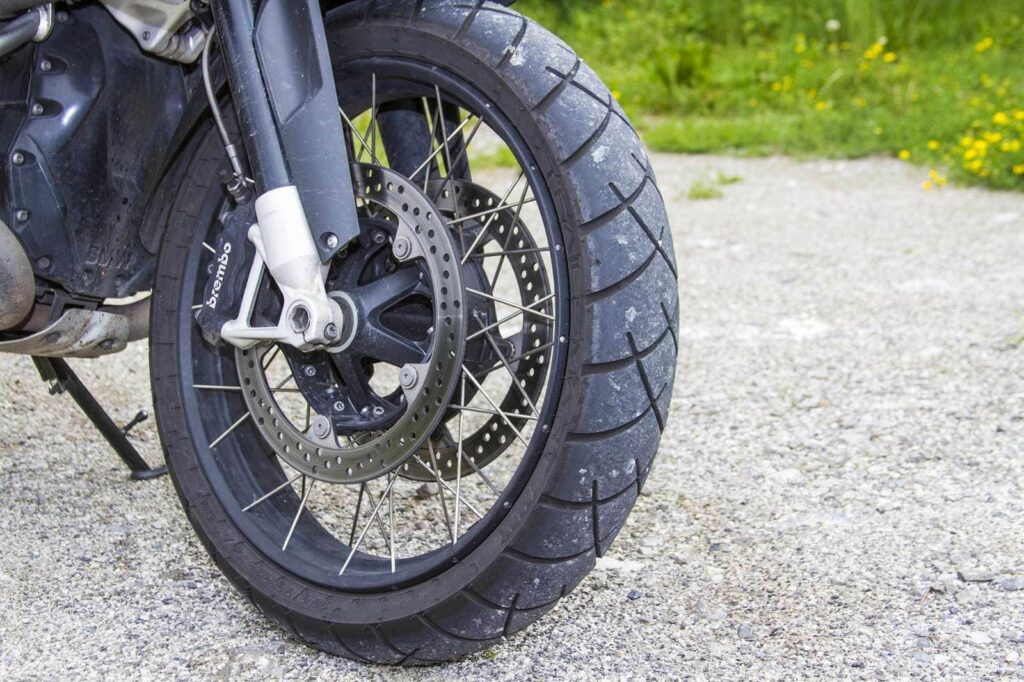 On-road Performance and Durability
What the Trail Smart tire truly boasts of is its smooth on-road performance coupled with an impressive lifespan. While adventure riders often have to compromise between off-road capability and on-road comfort, this tire aims to offer the best of both worlds. Its design ensures riders experience a consistently comfortable journey without the usual wear and tear seen in other tires subjected to similar conditions.
Anatomy of the Trail Smart Tire
Delving deeper into the tire's anatomy, the Lambda-C ratio becomes evident. Here, 'Lambda' represents the raised rubber areas, while 'C' refers to the voids or spaces between the tread blocks. The Trail Smart sports notably large tread blocks. Such a design contributes to its feeling of stability on the road. For anyone who has ventured onto the tarmac with a knobby or 50/50 tire, the sensation can be quite unsettling. Such tires can often feel unstable, almost as if you're riding on a wobbly surface, due to the flexing and movement of individual tread blocks. However, the Trail Smart tire, with its larger blocks, stands out by offering a steady and reassuring grip on the road, banishing those unsettling sensations.
An Overview of the Trail Smart Experience
The Trail Smart by Dunlop brings forth a unique blend of on-road comfort and off-road capability. Unlike many of its counterparts, it successfully dispels the unsettled feeling typically associated with off-road tires when ridden on the tarmac. Instead, it offers an experience akin to that of a high-quality street tire, ensuring that riders enjoy smooth and confident rides on paved roads.
Venturing Off-Road with Trail Smart
But the brilliance of the Trail Smart doesn't end on the streets.
While it exudes confidence on paved surfaces, it doesn't shy away when the path gets rough. Whether it's a dusty fire road or a gravel-filled trail, the tire's design empowers riders with the confidence to take the path less traveled. With the Trail Smart, riders have the assurance and versatility to navigate a variety of terrains without the need to switch tires.
Who is the Trail Smart For?
The rise of adventure biking has seen an influx of riders seeking bikes that can do it all – offer comfort on the highway and capability on the trails. And with such diverse requirements, the choice of tire becomes paramount. While I personally oscillate between a dedicated street tire and a rugged off-road knobby for my biking adventures, I recognize that there's a growing segment of riders who value the middle ground. These are riders who own a single bike, often an adventure model, and want to relish both the urban and wilderness landscapes without the hassle of changing tires. For such riders, the Trail Smart emerges as an impeccable choice, striking the right balance between on-road comfort and off-road prowess.
Conclusion
The Trail Smart tire serves as a testament to Dunlop's commitment to catering to the diverse needs of modern bikers. While it might not be the go-to choice for purists who prefer dedicated tires for specific terrains, it undoubtedly carves a niche for itself among adventure biking enthusiasts. Those who seek a single tire solution for both urban commutes and occasional off-road excursions will find in the Trail Smart a reliable and versatile companion.