Introduction to Dunlop Geomax MX12 Review
Diving headfirst into the exciting and high-performing off-road world with the Dunlop Geomax MX12 review, it is noticeable that Dunlop has designed the MX12 to have increased functionality compared to its previous generations. As the replacement for the MX11, the MX12 rear tire was made to provide next-level performance in a broader range of sand and mud terrain. The innovative tread pattern includes Dunlop's exclusive V-block technology that increases traction, even in the most demanding sand and mud conditions. This tire doesn't merely offer sea-change improvements over its predecessor, but it also builds upon Dunlop's legacy of producing high-performing off-road tires.
The Dunlop Geomax MX12 tire leverages the company's 'block-in-a-block' Progressive Cornering Block Technology (PCBT), a breakthrough in tire design that offers significant improvements in traction, bump absorption, and steering in rutted conditions.
Progressive cornering block technology, a narrower tire profile, combined with a lengthened contact patch, have been key game-changers in providing the MX12 tire with such exceptional slide control and cornering traction. There's no denying that this tire packs in all the necessary components of an excellent performer early in the day – be it the ribs added to the backside of the knobs to improve stability in braking or the V-Block pattern that helps in flinging mud off the tire for added traction.
Dunlop MX12 rear tire has undeniably been able to offer alternate lines that dug into the dirt and hooked up surprisingly well, delivering optimum traction in sand and mud. Indeed, the Geomax MX12 is the embodiment of what a efficient, mud tire should be, it's ability to deliver improved control in ruts and enhanced performance in mud and sand leaves no room for doubt.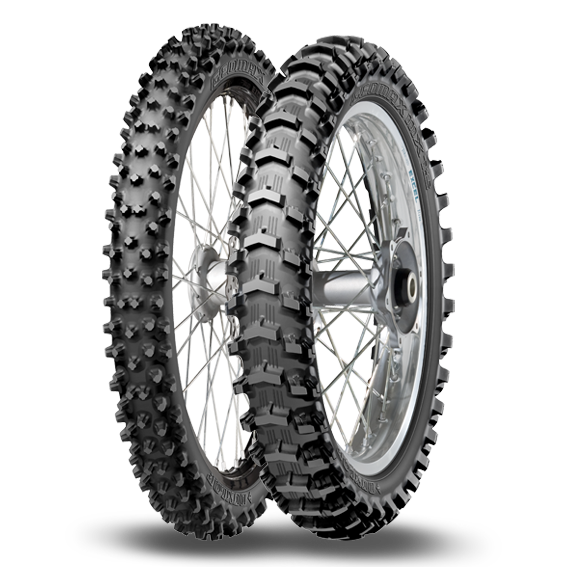 An Overview of Dunlop Tires
Dunlop, an acclaimed name in the tire manufacturing industry, has an illustrious range of tires that are dramatically designed to enhance your driving experience. Of note is the Dunlop Geomax MX12 rear tire, meticulously crafted to provide supreme tire profiles which increase the length of the contact patch for improved bump absorption, cornering traction, and slide control. This innovative new tire, replacing its predecessor, the MX11, has been meticulously tested to ensure outstanding performance in the most challenging conditions.
The Dunlop MX12 tire is an exceptional amalgamation of artistry and technology, boasting a multitude of features that provide unparalleled handling. The tire flaunts broad, paddle-like rear ribs that have been added to increase the length of the contact patch, leading to optimal acceleration grip, particularly in muddy conditions. Further tailoring its performance in mud and soft dirt while expanding the range of conditions it can be used in, is Dunlop's embedded block-in-a-block progressive cornering knob technology.
The v-block pattern serves a dual advantage – firstly, it helps catapult a motorcycle forward in places where a standard tire would falter, and secondly, it assists in the vigorous expulsion of mud from the tire. The Dunlop MX12 also features new V-block technology, enhancing stability and providing stellar control on hard-pack and intermediate terrains. Among its contemporary successors are the MX53 and MX33 tires which maintain Dunlop's commitment to innovation and performance.
In summary, The Dunlop Geomax MX12 is an amalgamation of remarkable capacity, adeptly merging science with practicality to cater to a diverse array of driving conditions.
Attributes such as increased cornering traction, slide control, and improved bump absorption redefine the drivers experience in mud, sand, or soft dirt, proving their value time and again. Whether it's lines that were too deep, sand tires that simply weren't up to par, or corners that were too abrupt, Dunlop's MX12 tire emerges as a reliable solution to these various issues. Leveraging its breakthrough design and advanced technology, this tire continuously delivers, driving forward the legacy of Dunlop.
Dunlop Geomax MX12: Tire Reviews from Real Users
The Dunlop Geomax MX12 has been subject to extensive reviews from real users and product experts, aptly highlighting its benefits and performance. Designed as an upgrade, the Geomax MX12 is the replacement for its predecessor, proving to be an invaluable tool for riders tackling predominantly sand and soft dirt, as well as muddy conditions. Its v-block pattern not only helps to fling mud off of the tire but also increases the length of the contact patch for better grip.
The MX12 felt, as testers claimed, capable and reliable thanks to the strategic modifications that Dunlop has implemented on the MX12. The ribs have been added effectively, having a notable influence on the performance by allowing riders to use alternate lines in varying conditions without any difficulty. Whether tested on hard pack soil or a course full of sand or mud, the MX12 is always ready to deliver. MX users who have tested the MX12 stand unanimously on how well it performs in rough, mud terrain, achieving increased cornering control thanks to the tweaked front tire design.
Dunlop designed the MX12 with an aim to improve performance in mud and slippery conditions and, according to reviews, it has been successful. Users noticed an instant difference, with increased grip and stability due to changes such as the addition of a few inches between each row of the tread pattern. The intermediate tire profiles not only increase the length of the contact patch in different riding angles but also ensure a smoother transition from the MX53 tires, making the MX12 an optimum choice for motocross riders. As always, to make sure you're getting the best out of your MX12, remember to enable JavaScript and stay updated with maintenance regulations. These reviews solidify that the Dunlop Geomax MX12 delivers on its promises and stands as a testament to Dunlop's efforts in tire innovation.
Comparing Dunlop MX12 to Other Tire Brands
When compared with other tire brands in the market, the Dunlop MX12 exhibits select traits that make it truly unique. Unlike many conventional tire brands, the Dunlop MX12 exhibits a superior performance in muddy conditions. This can largely be attributed to its unique V-block pattern, which is designed to release mud easily thereby ensuring maximum grip. The tire's design is not just about achieving a rugged look but serves a purpose that matches its aesthetic. The Dunlop MX12, being designed with a focus on delivering optimal performance in off-road conditions, has the distinction of being able to use in alternate terrains without any significant compromise in performance.
Delving deeper, the performance and durability of a tire are largely based on the length of contact patch, a factor clearly prioritized by Dunlop.
What sets the MX12 apart is its ability to increase the length of the contact patch. By adjusting the tire profiles, Dunlop has managed to provide an extended contact area, thus ensuring better traction and control. This is unlike many other tire brands that often forego this feature for cost benefits. Moreover, the tire profiles on the Dunlop MX12 are carefully crafted to increase the length of contact and hence provide significant advantages like swift mud terrain traversal and improved cornering. Such a design approach ensures a remarkable balance between stability and endurance.
Conclusion
In tackling challenging tire performance in muddy conditions, certain design strategies and modifications can dramatically transform functionality. Primarily, the idea is to increase the length of the contact patch, or the area of the tire that comes in contact with the ground. Tire profiles play a crucial role in this aspect, as well-structured tire profiles increase the length of the contact patch effectively. This enhanced contact can significantly elevate the grip and control of the vehicle, making maneuvering much safer and more accurate in muddy terrain.
Additionally, certain tire patterns, such as the v-block pattern, can prove instrumental in these conditions. The v-block pattern helps fling mud off the tires, preventing the accumulation that would otherwise compromise traction and performance. To further ensure adaptability, being able to use alternate strategies such as changing tire patterns or profiles could also provide unique solutions tailored to the muddy terrain, fostering improved cornering even in the trickiest of conditions. Therefore, through strategic features and design alterations, tires can enhance their interaction with mud terrain through improved cornering, elevated traction, and optimized control.
FAQ's:
Q1. How does the Dunlop Geomax MX12 tire perform in muddy conditions?
A1. The Dunlop Geomax MX12 tire is designed to perform well in muddy conditions, with its V-block pattern helping to fling mud away from the tire and increase the length of contact patch.
Q2. How does the tire profile of the Dunlop Geomax MX12 increase the length of contact patch?
A2. The tire profile of the Dunlop Geomax MX12 is designed to increase the length of contact patch, allowing for better grip and traction in mud terrain.
Q3. How does the V-block pattern of the Dunlop Geomax MX12 help fling mud away from the tire?
A3. The V-block pattern of the Dunlop Geomax MX12 helps fling mud away from the tire, allowing for better grip and traction in mud terrain.
Q4. Is it possible to use an alternate tire profile with the Dunlop Geomax MX12?
A4. Yes, it is possible to use an alternate tire profile with the Dunlop Geomax MX12, allowing for better grip and traction in mud terrain.