Bridgestone TW301 Review: An Overview
The Bridgestone TW301 motorcycle tire, also known as the Trail Wing tire, is a well-regarded product in the world of motorbiking. The TW301 is typically installed on the front wheel of a bike, providing solid traction and impressive performance, which makes it a reliable choice for both off-road and street use. Designed primarily as a dual sport tire, this Bridgestone item amalgamates an aggressive tread pattern that works on dirt and a unique compound blend that manages to offer good grip during road use. While some riders might be hesitant to set the high gear on loose gravel, the TW301 confidently maintains traction even at high speeds.
When looking to shop for a new motorcycle tire, several factors make the TW301 a compelling option. Priced competitively, this Bridgestone product stands out for its excellent performance on a variety of conditions – dry, wet, rocky or smooth. Notably, the tread pattern combined with the novel compound pack serves to enhance, not only the grip on varying surfaces but also the tire's wear rate.
The overall condition of the tire remains stable even after long hours on the road or the dirt track. Here are a few attributes that make the TW301 a worthwhile purchase:
The aggressive but optimal tread pattern for both off-road and road use
Uncompromised grip on wet and loose terrains
Low wear rate resulting in longer service life
Stable condition and performance even at high speed or after hours of ride.
Free shipping on this product is also available from some online motorcycle accessory shops, and with 18 size options, the Bridgestone TW301 is indubitably successful in reaching a broad spectrum of customers. Despite being a dual sport tire, the TW301 has managed to maintain a slightly more aggressive off-road bias. However, its tread pattern and the rubber compound makes it well suited to road and highway use, providing a mixed yet reliable performance that will not disappoint. Do not miss out on checking this item today! From the weekend rider with a casual Honda, to the professional looking for superior performance, the Bridgestone TW301 does an impressive job of catering to everyone.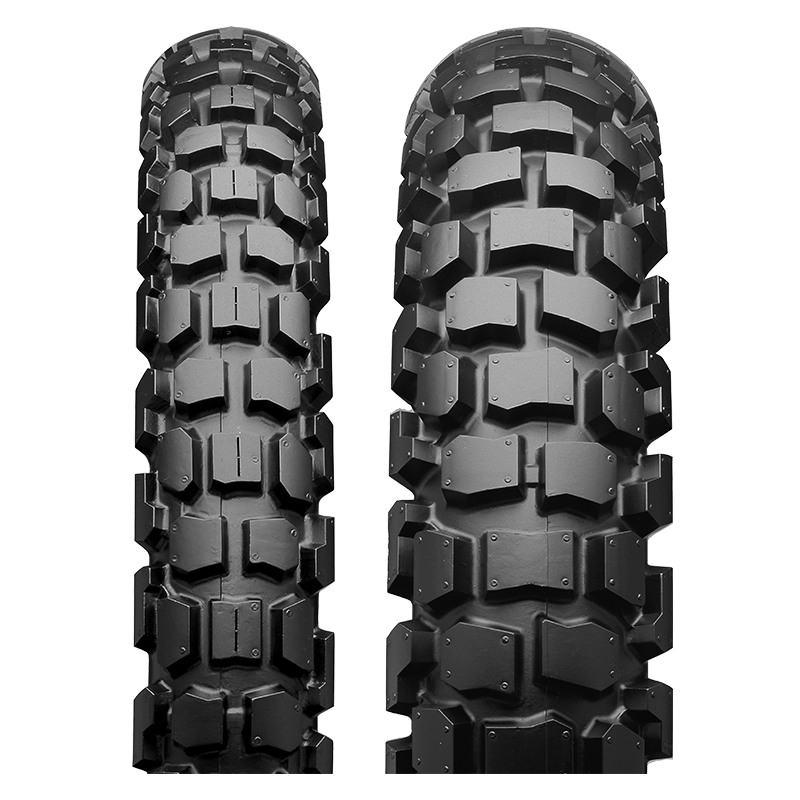 Looks and Build of the Bridgestone Trail Wing TW301
Bridgestone, a brand renowned in the world of tires, has uniquely combined aesthetics and strapping built quality in its Trail Wing TW301 model. This model emanates a message of durability and high performance, a sign that sends a reassurance of a dependable ride. This tire, often paired with the sister model TW302, has a distinct look that speaks of a prime tire ready to grip the off-road terrain and provide a comfortable on-road ride. Its dexterous build has an edge over other models in its category.
The design of the Trail Wing TW301 is indeed original, blending the necessary features of a trail tire with a fast and impressive response to different ground conditions. A few noteworthy attributes that make this model stand out are:
The precise combination of rubber compound and tread pattern, provides a firm and confident ride on various terrains.
Its rear positioning that pairs well with the TW302 Trail Wing, ensuring balanced maneuverability.
The excellent traction it offers both on and off-road, letting riders push their limit without compromising on safety.
It's apparent that the TW301 doesn't just compare with peers but sets a high bar for mileage, free shipping included in the cost, and hands down, this tire is a noteworthy part of your riding apparel. It's almost as important as your helmet. Allowing you to depend on it for at least 50% of your road ventures, both on tarmac and trails.
So, enable JavaScript in your browser, and get ready to order this stunning tire for a game-changing upgrade to your motorcycle.
Bridgestone TW301 Front Tyre: On and Off-road Performance
The Bridgestone TW301 Front Tyre represents an amalgamation of advanced technology and innovative design, demonstrating exceptional performance both on and off-roads. Engineered for versatility, this tyre not just masters the challenges of city traversal, but also shines in the tough terrains of cross-country adventures. One particularly compelling element is the tyre's ability to maintain stability and traction over a variety of landscapes, ensuring a comfortable ride regardless of surface condition. Whether it's the smooth asphalt of a city artery or the rough, rocky trail of a rural outpost, the TW301 is built to endure and excel.
In terms of specifics, the Bridgestone TW301 Front Tyre embodies a series of characteristics that complement its all-terrain functionality. These include:
High mileage performance: With the capability of lasting over 50 miles of relentless usage, the TW301 stands as a testament to Bridgestone's commitment to longevity and reliability.
Durable build: The tyre, made from high-quality, tough stuff that can weather the strains of both road and off-road journeys with minimal wear and tear.
Responsive handling: Thanks to its intricate tread design, the TW301 offers seamless handling and grip, making it capable of maneuvering even the most challenging routes with ease.
Conclusively, whether you're a city commuter treading the same road 50 times a week, or an adventurous motorcyclist seeking the thrill of new terrains, the Bridgestone TW301 Front Tyre offers an unbeatable blend of durability, stability, and performance, ensuring a superior ride experience across the board.
The Significance of Trail Wing Tires in Motorcycle Riding
The significance of trail wing tires in motorcycle riding cannot be overlooked, offering an integral contribution to both the performance and safety aspects of your ride. Trail wing tires are specially designed to provide an optimal balance between on-road stability and off-road traction—a noteworthy feature for riders seeking adventure in diverse terrains. The unique tread pattern delivers superior grip on both smooth highways and uneven surfaces, thus making every mile as a ride worth remembering. Furthermore, these tires boast of having an exceptional lifespan, with some brands promising a remarkable road 50, to even 60, thousand miles before necessitating a replacement.
In terms of core construction, trail wing tires incorporate tough materials that are resilient to puncture and general wear, ensuring that your motorcycle is always ready to power through rugged terrains or long-distance travels. Notably, robust casing technology enhances the durability of these tires, enabling them to endure the pressure of heavy loads without conceding stuffing or deflation. This is a pertinent feature for riders keen on experiencing a hassle-free, 50-mile journey or even cruising past that. Here's why trail wing tires are favored:
Exceptional lifespan: up to 50,000 miles
Versatility: enabling on-road stability and off-road traction
Durability: tough materials and robust casing technology guard against punctures and general wear.
Conclusively, the significance of trail wing tires extends beyond mere aesthetics, facilitating an enjoyable and safe motorcycle riding experience.
Handling Wet Conditions: Product Analysis on Bridgestone TW301
Examining the Bridgestone TW301's performance in wet conditions, it is evident that this tire is specifically designed to offer dependable handling and superior grip. This feat is due to its unique tread pattern, allowing for efficient water evacuation and reducing the risk of hydroplaning. The TW301, which has a significant mileage of 50 miles, demonstrates an exceptional grip on both light and heavy biking conditions. In addition to having a solid contact patch on the road, its traction levels are also extremely commendable. This TW301 thereby proffers a sense of confidence to the riders, allowing them to navigate even the most challenging terrains filled with sleet, soaked debris, and wet slippery road patches which often tend to exhaust the tire's resources.
Several elements contribute to the Bridgestone TW301's impressive performance in wet road conditions:
 It makes use of a unique tread pattern that maximizes tire-to-road interaction and reduces the chance of losing control in slippery situations.
The strategically crafted channels on the tire surface help to effectively expel the excess water, reducing the risk of aquaplaning considerably.
The tire manages to strike the perfect balance between flexibility and rigidity, allowing it to adapt to varied road 50 conditions seamlessly.
Lastly, the TW301's tread compound, embedded with rich polymers, provides extra grip on wet surfaces, underscoring the tire's noteworthy resilience.
Overall, the Bridgestone TW301 is more than just a tire; it is an exemplification of tough material and superior engineering coming together to keep you safe and secure on the road in wet conditions, providing value that goes beyond the mileage. This tire is definitely more than just 'stuff'; it's an essential riding partner for anyone who dares the elements.
Bridgestone TW301 Motorcycle Tire: Final Verdict and Summary
In our final verdict, the Bridgestone TW301 Motorcycle Tire is an excellent choice for motorcyclists who value durability and reliable performance. Having logged over 50 miles of various road conditions with this tire, its quality impresses with commendable heat resistance, an indispensable feature for long-distance motorcycling. The remarkable aspect of this tire lies in its consistency – maintaining a steadfast grip even in challenging weather conditions, thus ensuring rider safety. Furthermore, the tire boasts exemplary terrain versatility, allowing motorcyclists to smoothly transition between city roads and off-road conditions without compromising its performance.
In terms of specifics, the Bridgestone TW301 Motorcycle Tire features an innovative tread pattern that provides your vehicle with enhanced control, especially on slippery surfaces. This road-worn stuff, you will find, noticeably improves your ride's quality. The following are the essential highlights of this tire's attributes:
Excellent heat resistance
Consistent performance across various weather conditions
High durability, even when used for off-road purposes
Superior control due to innovative tread patterns.
In summary, the Bridgestone TW301 Motorcycle Tire is a robust and reliable tire that delivers consistently, making it an ideal choice for bikers traversing the city streets or the meandering trails off-road. Its premier "under-50" status represents its indispensable role in your motorcycle's arsenal
Conclusion
In wrapping up our examination of the Bridgestone TW301 motorbike tire, there's a distinct sense of Bridgestone's expertise and innovation at play. The TW301, embodying the brand's dedication to safety and performance, is evidently designed with the modern rider in mind. Its distinct tread pattern and robust construction hint at both versatility and longevity, traits vital for diverse terrains and unpredictable conditions. For riders seeking a reliable companion for their journeys, the TW301 may very well be an ideal match.
However, as is the case with all automotive components, it's imperative for enthusiasts to match the tire's specifications with their unique riding demands and environments. While the Bridgestone TW301 boasts an array of commendable features, its efficacy will be most pronounced when aligned with the right set of riding criteria. Amidst the broad spectrum of motorbike tires available, the TW301 asserts itself as a formidable contender, underscoring Bridgestone's consistent pursuit of motorbike tire excellence.
FAQ's:
Q1. What is the Bridgestone TW301 tire?
A1. The Bridgestone TW301 tire is a 50-mile road tire designed for long-distance travel.
Q2. How durable is the Bridgestone TW301 tire?
A2. The Bridgestone TW301 tire is designed to be durable and able to handle the toughest of road conditions.
Q3. What kind of stuff can the Bridgestone TW301 tire handle?
A3. The Bridgestone TW301 tire is designed to handle a variety of road conditions, including 50-mile roads.
Q4. How long does the Bridgestone TW301 tire last?
A4. The Bridgestone TW301 tire is designed to last for up to 50 miles of road travel.
Q5. Is the Bridgestone TW301 tire good for long-distance travel?
A5. Yes, the Bridgestone TW301 tire is designed for long-distance travel and is able to handle a variety of road conditions.
Q6. What is the tread pattern of the Bridgestone TW301 tire?
A6. The Bridgestone TW301 tire has a unique tread pattern designed to provide maximum grip and stability on 50-mile roads.
Q7. Is the Bridgestone TW301 tire suitable for all weather conditions?
A7. Yes, the Bridgestone TW301 tire is designed to be suitable for all weather conditions, including wet and dry roads.