Introduction to the Bridgestone Spitfire Review
Bridgestone, a star in the world of motorcycle tires, takes it a notch higher with their Spitfire series, specifically the Bridgestone Spitfire S11 Sport Touring. This piece is a comprehensive review of these outstanding tires that have been designed and crafted with the diligent rider in mind. The most appealing aspect of the Bridgestone Spitfire S11 is undoubtedly its refined belt technology. This innovation helps keep the tire round and cool even at top speeds, ensuring optimal performance under various riding conditions. The 4-ply casing, another notable feature, incorporates insert plies that enhance the overall durability of the tire while ensuring a smoother ride.
The Spitfire S11 tires are designed for both the front and rear wheels, with sizes designed to fit a wide range of bikes. Additionally, these tires come with a speed rating to suit the cruiser or touring-oriented rider. The tires' zig-zag and angled outer grooves don't just add to its sporty appeal, they also provide impressive performance by throwing water to the sides, ensuring a safer ride in wet weather.
These purposeful features make Bridgestone Spitfire S11 tires not just a stock replacement, but a worthwhile upgrade for your motorcycle. Whether you're riding a Honda or a Harley Davidson, new tires from the Spitfire S11 category could significantly improve your tour or ride.
Detailed Product Details of Bridgestone Spitfire Tire
The Bridgestone Spitfire Tire, renowned in the market as a superior choice for all touring-oriented riders, presents an innovative blend of refined belt technology that helps keep wear at bay, whilst offering a sturdy riding performance in various weather conditions. With a special emphasis on the rear tire, the Spitfire series boasts the use of a sophisticated bias-ply technology, namely the 's11 spitfire'. This proprietary technology delivers an impressive mileage performance and yet still resists rain-groove wander, a frequent concern for riders. Further underlining its robust construction is a 4-ply casing, integrating insert plies for enhanced durability and traction. The manufacturer also ensures the tire's versatility by providing various wheel location combinations.
The detailed forum reviews of the Bridgestone Spitfire Tire often laud its outstanding wet-weather performance, courtesy of its specialized tread design. Designed to provide wet-weather performance by throwing water efficiently, the tread is also effective in preventing any unexpected rain groove wander. Despite having a reputation as a touring oriented tire, users also enjoy a sporty ride, knowing well that their tires for large late-model cruisers and older bikes are fortified against tire wear and unpredictable situations during rides.
The S11 is also a bias-ply general-purpose replacement tire for larger late-model cruisers, optimizing the touring capacity of the bike.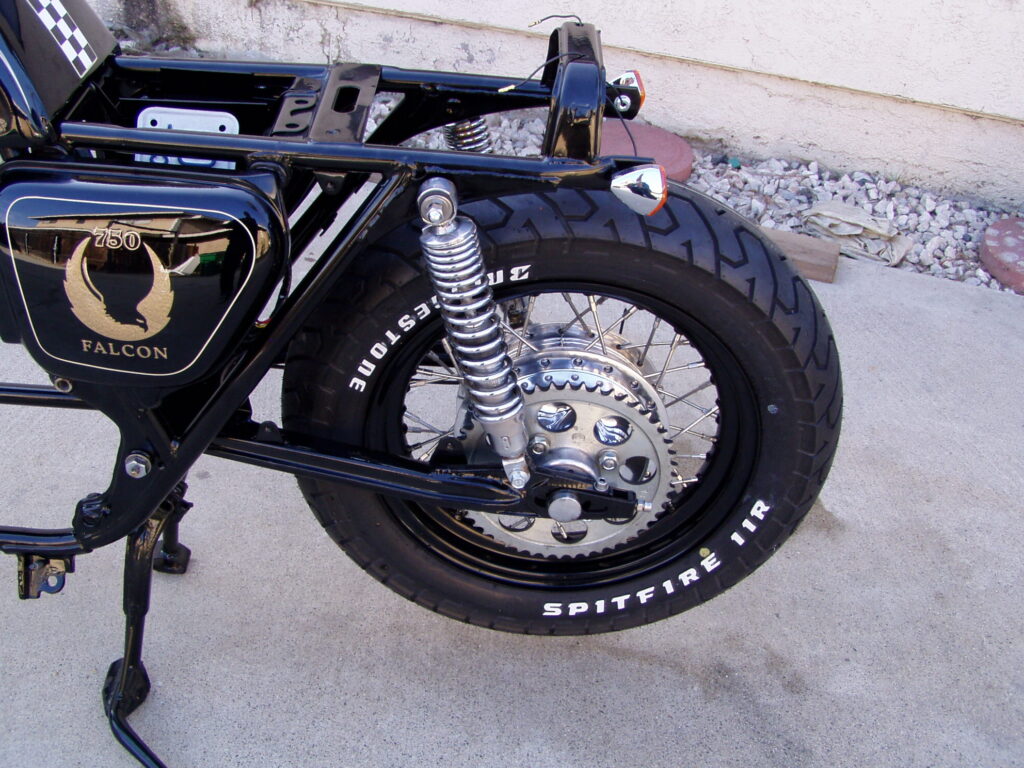 For ideal utilization of the product's features, it is recommended to enable JavaScript in your browser. Product experts affirm that the Bridgestone Spitfire tire is an ideal fit for bikes of the 1970s, like the 83 Honda, and Kawasaki models, and various similar categories. So, whether migrating from Dunlop to Bridgestone or seeking a replacement for a factory-installed tire, the Bridgestone Spitfire provides an unmatched combination of durability and performance, substantiating its high demand.
Thorough Review of Bridgestone Spitfire Features and Benefits
Bridgestone Spitfire series has been gaining attention among bike enthusiasts and sport touring riders alike. Notable for its innovation in design and construction, Bridgestone Spitfire offers exceptional features that make it an excellent choice as a purpose replacement tire for large late-model bikes. Specifically, the S11 Spitfire is recognized as a front tire that provides remarkable traction and performance. This tire for bikes employs unique technology, such as Bridgestone's 4-ply casing incorporating insert plies. This design supports a smooth ride and enhances the overall durability of the tire. Baldly shaped, with multi-faced knobs, these tires provide a superior grip that adventurers seek. Furthermore, engineers at Bridgestone's factory have gone the extra mile to ensure the tire's grooves provide wet-weather performance, undoubtedly setting a benchmark for all motorcycle tires.
Whilst navigating through Bridgestone's product portfolio, one can't help but notice how well-presented and diversified it is. This aspect makes browsing through their selection quite a thrilling experience. The rear motorcycle tire variant under the Spitfire series notably stands out. Notably, the Spitfire S11 Sport Touring tire boasts of excellent features paired with extraordinary benefits. This tire is designed with varied wheel location combinations in mind, making it great for sport-touring bikes.
If we inspect the reviews and feedback, we can see that users are delighted and are encouraging others to get the full experience by having a Spitfire tire installed.
Being entered into Bridgestone's emailing list certainly has its advantages, as users are updated with the latest product information and deals. To get the most out of Bridgestone's offerings, one can disable pop-up blockers and get up-to-date information about the latest products.
By comparing Bridgestones to Dunlops and other competitors, it's clear why so many choose to outfit their touring bikes with Spitfire tires. The punch, grip, and overall riding comfort with Bridgestone Spitfire tires truly make a difference in the riding experience.
Customer Feedback and Views on Bridgestone Spitfire
Customer feedback and views on the Bridgestone Spitfire offer powerful insights and peer opinions on the product. Currently, this line of tires is consistently applauded for their reliability and durable construction. Many users appear to appreciate the effort Bridgestone puts into ensuring optimal road grip and comfort. Such characteristics are central to why the product is currently gaining increasing appreciation among motorcyclists. A notable number of riders have shared their experiences which include impressive tread life, superior handling in both wet and dry conditions, as well as the tire model's versatility to fit a wide range of motorcycles.
The feedback can be summarised as follows:
Durable and reliable construction.
Exceptional handling in diverse road and weather conditions.
Impressive tread life.
Versatility to fit a variety of motorcycles.
When considering these points, potential buyers can make a more informed decision about whether the Bridgestone Spitfire might meet their specific needs. To stay updated on customer opinions and any upgrades about the product, entering your email on their official website is a smart move. Doing this ensures you receive direct updates about the product from the manufacturers and from more users sharing their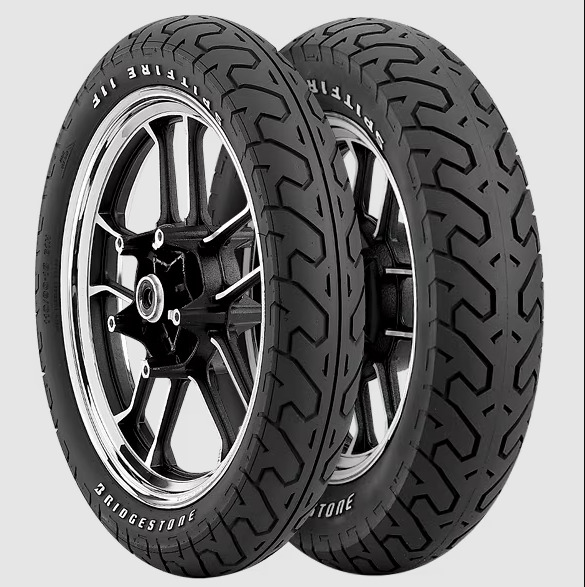 Conclusion
Drawing our review of the Bridgestone Spitfire motorbike tire to a close, it's apparent that Bridgestone's reputation for quality and innovation remains steadfast. The Spitfire, with its compelling design and features, underscores the brand's commitment to delivering performance-driven solutions for riders. Its balanced tread design and advanced rubber compounds suggest a focus on both durability and agile handling, appealing to riders who prioritize both. For those navigating varied terrains and seeking reliable road feedback, the Spitfire seems poised to meet these demands.
However, it's pivotal for riders to evaluate the tire's characteristics against their specific riding environments and styles. While the Bridgestone Spitfire boasts numerous merits, its true mettle will be realized when paired with the appropriate motorcycle and rider dynamics. Amid the plethora of motorbike tire options in the market, the Spitfire stands out, reinforcing Bridgestone's dedication to motorbike tire craftsmanship and rider-centric innovation.
FAQ's:
Q1. What is the Bridgestone Spitfire review?
A1. The Bridgestone Spitfire review is a product review of the Bridgestone Spitfire tire.
Q2. What are the benefits of the Bridgestone Spitfire tire?
A2. The Bridgestone Spitfire tire offers excellent traction, long-lasting durability, and a comfortable ride.
Q3. Are Bridgestone Spitfire tires currently available?
A3. Yes, Bridgestone Spitfire tires are currently available.
Q4. How do I enter my email to receive updates about the Bridgestone Spitfire tire?
A4. To receive updates about the Bridgestone Spitfire tire, enter your email address on the Bridgestone website.