Background
The world of dirt biking is ever-evolving, with tire technology pacing at the forefront of these changes. Bridgestone, a leading name in the industry, recently added another gem to its collection – the Battlecross E50 Extreme. Drawing inspiration from its predecessor, the E50 Enduro, launched in 2019, the company has now introduced its first-ever gummy tire, catering to the hardcore Enduro riders.
The Essence of the E50 Extreme
At its core, the Battlecross E50 Extreme tire is designed for those passionate about hard Enduro riding and trails. If you're an enthusiast of challenging terrains, marked by rocks, roots, and technical paths, this tire is set to be your new best friend.
Bridgestone's decision to mold the successful tread of the E50 Enduro into a gummy tire format showcases their commitment to innovation and serving diverse riding needs.
Feeling and Measuring the Rubber
What immediately grabs attention is the softness of the rubber compound. This isn't your typical softness – it's extreme, coupled with an almost adhesive quality. Such attributes are promising for traction and grip, especially on slippery terrains. Using a durometer tester, the readings for this tire range between 55 and the low 60s. This positions it on the softer side compared to some hybrid tires in the market.
Sizing Specifications
Bridgestone offers only one size for the E50 Extreme, which is 140 80 18. However, it's crucial not to be misguided by the number. While Bridgestone has adopted a different measurement approach for this tire compared to their motocross range, an actual measurement of the carcass reads about 110 millimeters. The knob width is approximately 130 millimeters, making it an optimal fit for motorcycles ranging from 250 to 450 cc.
Approval and Recommendations
An important distinction to note is that unlike the E50 Enduro from the previous year, the E50 Extreme is not DOT approved. This might influence some riders' decisions based on where and how they intend to use the tire. Nonetheless, with the attributes the tire boasts, it seems set to be a top pick for those who revel in technical trails and seek superior performance in rocky conditions.
Initial Impressions and Testing
With all its features laid out, the real validation for any tire comes from its performance on the trails. With an upcoming test ride planned on a CRF250RX, through some demanding trails, expectations are high. The softness and stickiness of the tire's knobs have set a positive tone, sparking confidence that it will rise to the occasion, especially in rocky terrains.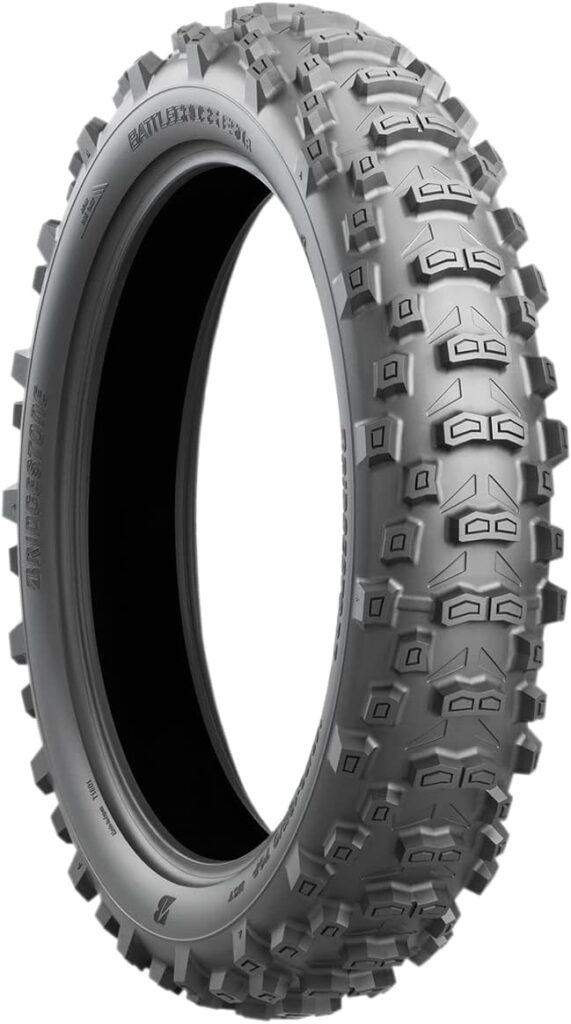 Introduction to the E50 Extreme
The tire industry is filled with a plethora of options, catering to various terrains and rider preferences. Bridgestone's E50 Extreme is an interesting addition to the mix. Designed as a hybrid tire with gummy properties, it poses an intriguing question about its longevity and performance on the trails.
How long is this tire gonna last?
The burning question for many riders, especially those familiar with hybrid tires, revolves around the longevity of the E50 Extreme. Often, hybrid tires with a durometer measurement hovering around the 60 range may not promise an extended life. The Bridgestone E50 Extreme's promise of superior grip, particularly on rocky terrains, does raise questions about its durability. A ride through rocky terrains, characterized by continuous spinning, certainly challenges the tire's endurance. After three days of navigating such terrains, the tire has showcased its prowess, especially when paired with its matching front counterpart, the Enduro.
Real-world Performance
Performance on rocky terrains is one thing, but how does the E50 Extreme fare in varying conditions? From the first ride, it was evident that the tire performed admirably, even in wet conditions after a fresh spell of rain. Whether it's navigating mud patches, treading on slick rocks, or maneuvering through pristine dirt tracks, the tire's performance has been commendable. Its soft, yet not overly pliable carcass, ensures a smooth ride, effectively absorbing shocks and preventing any jarring movements.
Are there any complaints about this tire?
With any product, especially one that undergoes rigorous testing, there are bound to be areas of improvement. For the E50 Extreme, the experience has been overwhelmingly positive. The tire's exceptional grip on rocky terrains, its performance in wet conditions, and its ability to keep the rider steady in challenging terrains are all noteworthy. However, it's hard to overlook the visible wear on the tire after just a few rides. While the demanding nature of rocky hill climbs could be a contributing factor, the softness of the tire, which is a boon in low-speed technical terrains, might be its Achilles heel in terms of wear and tear. That said, it's worth noting that not all rides were exclusively on rocky terrains.
Thoughts on its Composition
While it's tempting to focus solely on the tire's performance, it's equally important to understand its construction. The durometer reading, indicative of its softness, is one aspect. The tire's design, which aids in its exceptional grip, especially in rocky conditions, and its balanced carcass, which ensures a smooth ride, are equally crucial. Bridgestone's decision to introduce this tire, with its unique measurements and design considerations, reflects their commitment to innovation and addressing the nuanced needs of riders.
As riders continue to test the E50 Extreme across diverse terrains and under varying conditions, it will be intriguing to see how the tire evolves in terms of durability and performance. Only time and more rigorous testing will paint a complete picture of this promising addition to Bridgestone's lineup.
Performance across terrains
Though its performance on rocky paths was impressive, how did the E50 Extreme fare on other terrains?
A recent ride on a wet day, right after a downpour, was a perfect test. The terrains encountered varied from slick rocks and patches of mud to stretches of almost perfect dirt. Throughout the ride, the tire demonstrated remarkable adaptability. Even in these slippery conditions, the tire's carcass remained sufficiently soft to absorb impacts, ensuring a smooth and steady ride. Moreover, it prevented any abrupt or unwarranted kicks, a testament to its well-engineered design.
Are there any complaints about this tire?
It's rare to find a product that ticks all boxes, and the E50 Extreme is no exception. While there weren't any glaring complaints during the initial rides, some wear was noticeable after only a few expeditions. Such wear and tear can be attributed to the demanding nature of rocky hill climbs and the tire's softness, which, while beneficial for grip in slow-speed technical terrains, might compromise its longevity. However, it's crucial to mention that the terrains covered during these rides weren't exclusively rocky, implying varied stress on the tire.
A deeper dive into its design
What stands out about the E50 Extreme isn't just its performance but the thought that has gone into its design. The durometer readings provide insights into its softness, but its adaptability across terrains speaks volumes about Bridgestone's commitment to innovative engineering. The tire's ability to deliver superior grip, especially in challenging terrains, while ensuring a smooth ride, truly sets it apart.
The Battlecross E50 Extreme, with its unique design considerations, has certainly carved a niche for itself. As it continues to be tested across diverse terrains and conditions, it promises to redefine the benchmarks for off-road biking tires.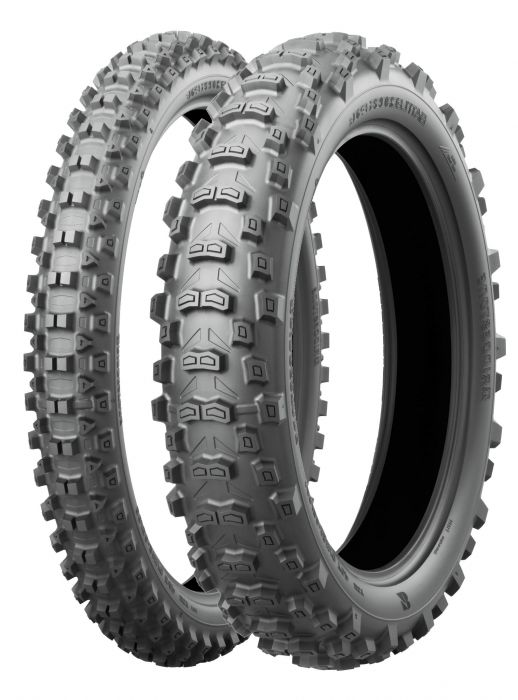 Adapting to Mixed Terrains
As an avid off-road biker, I am constantly on the lookout for tires that offer both durability and excellent performance. During my recent expeditions, I decided to test the Bridgestone Battlecross E50 Extreme on higher speed desert terrains mixed in with some technical areas. To my delight, the tire performed remarkably well, especially on near-perfect dirt patches where it was tough to find any fault. Whether navigating through mud or intricate pathways, the E50 Extreme didn't disappoint. However, as dusk approached, I noted the cuts and abrasions on the tire due to sharp rocks on hill climbs. Still, the tire's softness remained its distinctive feature, offering impeccable grip on rocky terrains.
Hours on the Trail: Observing Wear and Tear
Over three rides, which were predominantly slow-paced and lengthy, I accumulated around eight hours on these tires. And though signs of wear, like cuts and cracks, were visible, the tire's performance remained unfazed. The knobs were intact, further testifying to its robustness amidst challenging terrains. My fellow riders and I decided to further test its limits, hoping to gather more insights into its durability and adaptability.
Performing on Harsher Terrains
Over a span of a couple of weeks, I embarked on about eight to nine rides, each posing its unique challenges. From rocky to gnarly terrains, some so treacherous they could only be termed as 'mean,' the tire consistently impressed. Its ability to conform and adhere to rocky surfaces was truly commendable.
The grip, especially in areas where traction was paramount, was unmatched. The tire's softness and stickiness became its strongest assets in such conditions.
Pushing Speeds in the Desert
Aside from the rugged terrains, I took the Battlecross E50 Extreme for a spin in the desert over a rainy weekend. With the soil rendered impeccable post the showers, I pushed the tire to higher speeds. On corner tracks, hard packs, and during intense braking moments, the tire held its ground admirably. While it's evident that it might not be the best fit for motocross, given its softer carcass and rubber, it delivered beyond expectations in those conditions.
Tire's Design Intent
Understanding the Battlecross E50 Extreme's core design intent is crucial. It is tailored for hard Enduro type environments, where slow movements and critical traction are the norms. Its soft and sticky nature makes it ideal for such settings. However, like any softer rubber tire, longevity is a concern. But given its performance in tight technical terrains, a slightly reduced lifespan seems like a small price to pay.
As my rides with the Bridgestone Battlecross E50 Extreme continue, its performance and adaptability remain the focal points of my observations. As for now, it's safe to say that it's a top contender in the realm of off-road biking tires.
Comparing Softness Among Rivals
When it comes to off-road biking, tire softness and durability can make or break the experience. Over the years, I've experimented with various tire brands and models to gauge the most optimal softness level. Although I've encountered numerous tires with a similar durometer, it's not uncommon to witness them deteriorate within just a single ride. The resilience of the tire I tested recently was commendable. For a tire as soft as any hybrid out there, its endurance left me genuinely impressed.
Observing Wear and Tear
After an intense day of navigating through treacherous terrains and truly pushing the tire to its limits, it was time for a thorough inspection. The tire's resilience was apparent. The rear side exhibited minimal signs of wear, looking almost as good as new. However, the front side told a slightly different story. Some portions showed signs of impending detachment, yet, to my astonishment, they remained firmly attached. The wear was undeniable, but so was the tire's tenacity. Given the punishment I had subjected it to, I estimated a few more rides before contemplating a replacement.
Performance in Niche Settings
It's essential to acknowledge the specific use-cases this tire is designed for. If your biking adventures primarily involve gnarly terrains where optimal traction is paramount, and if you aren't frequently transitioning across high-speed trails or paved roads, this tire is a match made in heaven. For those contemplating participation in hard Enduro races, this tire emerges as a top contender, promising the right blend of softness and sturdiness.
Conclusion: Is It Worth the Investment?
The quest for the perfect off-road tire often boils down to individual preferences and specific riding conditions. However, certain attributes like resilience, adaptability, and traction are universally sought after. This tire, with its unparalleled softness combined with durability, sets a benchmark in these aspects. While some might express concerns over its wear, especially on the front side, it's essential to contextualize this within the broader framework of its performance in challenging terrains.
To put it succinctly, for those prioritizing traction and performance in rugged settings without frequently transitioning to high-speed or paved terrains, this tire emerges as a clear winner. Its resilience in the face of extreme conditions, coupled with its commendable softness, positions it as a worthy investment for every off-road biking enthusiast. After all, in the unpredictable world of off-road biking, having a tire that consistently delivers can make all the difference.