Introduction: An Adventurous Expedition in Morocco
Hi, it's James. We are here in the mesmerizing landscapes of Morocco, teaming up with Bridgestone for the unveiling of their Sport Touring T3 and the much-anticipated adventure tire, the A41. Amidst this thrilling journey, I got the privilege to converse with Fabian Florence, Bridgestone's head of product engineering. As we discuss the experiences of the past couple of days, which involved challenging rides spanning hundreds of miles across various terrains, Fabian shares his insights on the prowess of their new tire models.
Facing the Unpredictable: A Test of Durability and Control
Our journey was far from smooth. The strong gusts of wind often posed serious challenges. There were moments where the ferocity of the winds was so great that our front wheels felt like they were on the brink of skidding away.
But despite these demanding circumstances, the tires held up impressively, especially in varying conditions, ranging from dry to wet terrains and everything in between.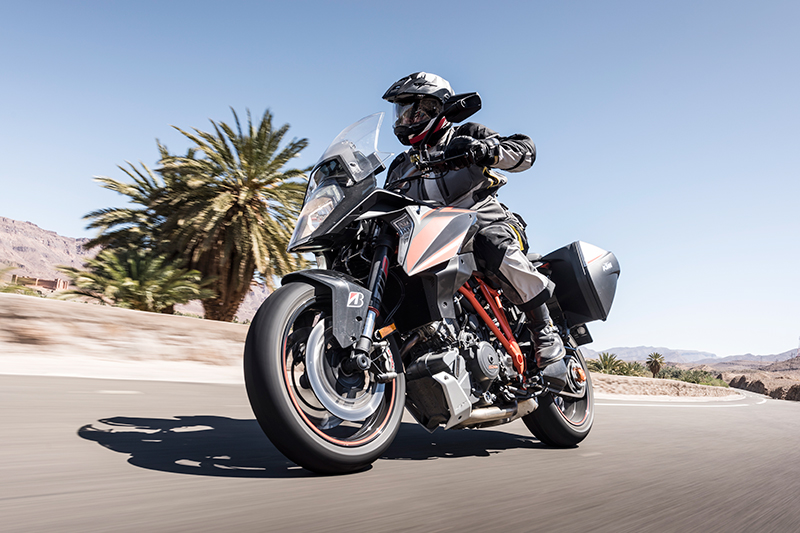 Bridgestone's T31: The Epitome of Confidence
When I asked Fabian about the distinctive features of the T31, he emphasized the tire's unparalleled ability to instill confidence in riders, even in the most challenging environments. "The T31's prime objective during its development phase was to ensure it performs impeccably in tricky situations, not just when it's windy but also under wet conditions and at lower temperatures," Fabian pointed out.
From my own experience, I couldn't agree more. Whether you are traversing a straight path or negotiating a sharp turn, the T31 guarantees a dependable grip and consistent performance.
Bike or Tire: The Real Hero?
One of the intriguing aspects of our ride was the diversity of the bikes we were using. When you are on a machine you've never ridden before, it's often tricky to decipher whether it's the bike or the tire that's truly shining. Especially in situations where you are leaning into the wind, feeling the front wheel's vulnerability, it becomes paramount for the tire to offer unwavering support. From our escapades, it became clear that while the bike's engineering matters, it's the tire's resilience and adaptability that truly stands out, ensuring safety and control even when faced with the unpredictable.
Gaining Trust in Tyres: A Realization
When it comes to bike rides, especially on unpredictable terrains, the trust we place in our tyres becomes paramount. Over time, I realized that the more I rode, the less I found myself doubting the tyre's grip. The consistent performance of the tyre soon overshadowed my initial skepticism. It was truly remarkable how the tyre managed to deliver unwavering grip, irrespective of the challenges thrown at it. Although we did not test it under wet conditions, the assurances regarding reduced stopping distances in the wet further solidified my confidence.
T31 vs. Its Predecessor: A Comparative Analysis
The new T31 tyre has, no doubt, showcased a shorter braking distance. However, it's essential to dive deeper into the improvements it brings over its predecessor.
The key aspects where the T31 shines are its overall wet performance encompassing grip, braking distance, and limit behavior. The enhancements in these areas make the T31 a noteworthy successor, showcasing tremendous improvements in all crucial performance metrics.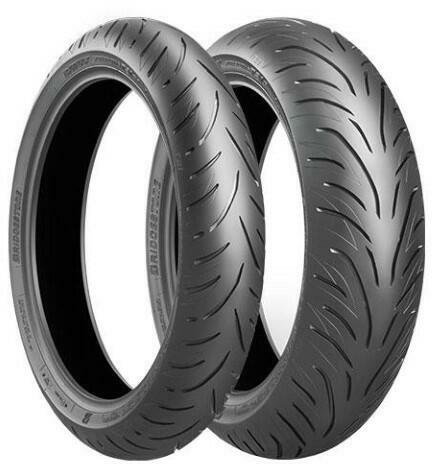 The Complexities of Sports Touring Segment
The realm of sports touring and adventure segments is intricate, to say the least. Unlike high-performance sport tires crafted with a singular purpose in mind and tailored to specific conditions (either dry or wet), sports touring tires cater to a broader spectrum.
This diversity presents its own set of challenges, especially when developing a versatile tire like the T31.
The Challenge of Versatility
Crafting a tire like the T31 demands striking a delicate balance. It needs to serve the performance expectations of various bikes – from agile naked bikes boasting 60 horsepower and weighing around 160 kilograms to the heavyweight champions that pack over 160 horsepower. Catering to such a diverse range, while ensuring each bike's performance isn't compromised, is no small feat. The T31, however, manages to bridge this gap with finesse, making it suitable for a wide array of bikes and riding conditions.
Achieving Versatility in Tyre Performance
One of the most challenging feats in tire development is creating a product versatile enough to cater to a vast array of performances. With the T31, the aspiration was lofty: design a single tire capable of meeting the demands of different terrains and bikes. Such an endeavor was indeed taxing, but with rigorous research and development, the T31 emerged, meeting the benchmarks we set for it.
From Light Bikes to Hefty Beasts
I had the opportunity to test the T31 on different bikes, starting with the lighter Africa Twin. Riding it was a comfortable experience, instilling a great deal of confidence. Switching to the considerably heavier GS 200 was initially daunting, given its imposing dimensions.
Yet, the tire's performance remained consistent, offering a reassuring grip and making even the heavier bike feel manageable and secure.
Shifting Terrains: Road to Desert
Our journey began on the road but soon took a dramatic turn as we ventured into terrains that mimicked deserts. The ground was scattered with rocks, presenting more challenging conditions off the road. These terrains were not only a testament to the bike's versatility but also highlighted the T31's adaptability. Its unwavering grip made it possible to navigate through these unpredictable patches with ease.
The Sensation of Speed and Security
When riding heavier bikes, especially off-road, there's an inherent need to adjust your speed and maneuvering techniques. With most riders opting to turn off the traction, there's an added thrill in feeling the bike sway beneath you.
Yet, even in these conditions, the T31 showcased its prowess. It offered such stability that, at times, I found myself cruising at speeds of 160 kilometers per hour on sandy stretches. This seamless performance, however, demands respect and awareness, especially when encountering rocky patches at such high speeds.
Understanding the Bridgestone's Tire Offerings
When diving into the world of bike tires, it's essential to understand the primary purpose and engineering behind each product. While riding a hefty bike, the need for a tire that aligns with the primary goal of the ride is vital. This sentiment echoes my experience with Bridgestone's offerings, particularly when comparing the T31 and the A41.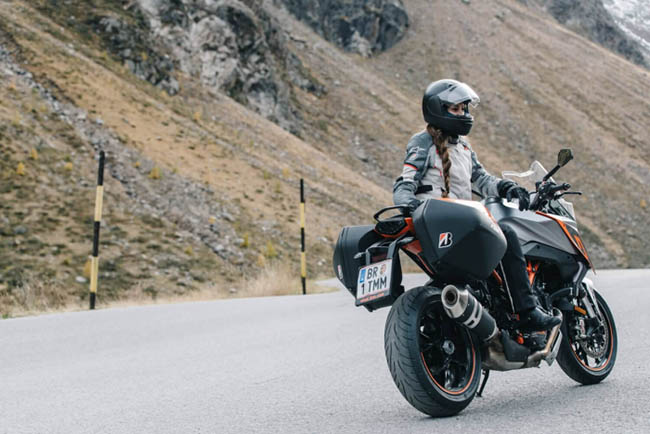 Battlax Adventure A41: A Closer Look
The Battlax Adventure A41 is described as a T-Turn approach tire – "Trail on Tire" for "Trail on Road" bikes. This category is particularly intricate as each manufacturer introduces their big maxi trails, each with unique specifications. Bridgestone's response to this growing segment is the comprehensive A41 lineup. The range includes H-rated tires with tubes, standard V-rated A41 tires, and even special W-rated tires in 18-inch sizes.
Distinguishing Between the T31 and A41
For the uninitiated, understanding the nuances between the T31 and the A41, especially when affixed to a big adventure bike, might be a tad confusing. On a superficial level, their design and concept might appear analogous. So, what's the intrinsic difference? The answer lies in their development and intended use. The A41, for instance, has been specially crafted with big maxi trails in mind. It's not just about the design but also the distinct construction and compounding that separates it from the T31.
A41's Commitment to High-Speed Stability
An aspect that stands out with the A41 is its emphasis on high-speed stability. This trait becomes crucial, especially when considering the nature of maxi trails. These bikes often carry hefty luggage, have larger rear loads, and feature prominent 21-inch or 19-inch fronts. Given these conditions, ensuring stability at elevated speeds becomes paramount for safety. The A41's development has been centered around catering to these specific requirements, making it an ideal choice for maxi trail enthusiasts.
Decoding the Bridgestone's Sport Touring Tire
Bridgestone's sport touring tire is a remarkable feat in the tire industry, designed to fit a wide range of biking needs, particularly in the sport touring category. Although the T31 has sizes suitable for the maxi trails, it wouldn't be my first recommendation. Instead, the A41 stands out both in performance and safety metrics, specifically tailored for these conditions.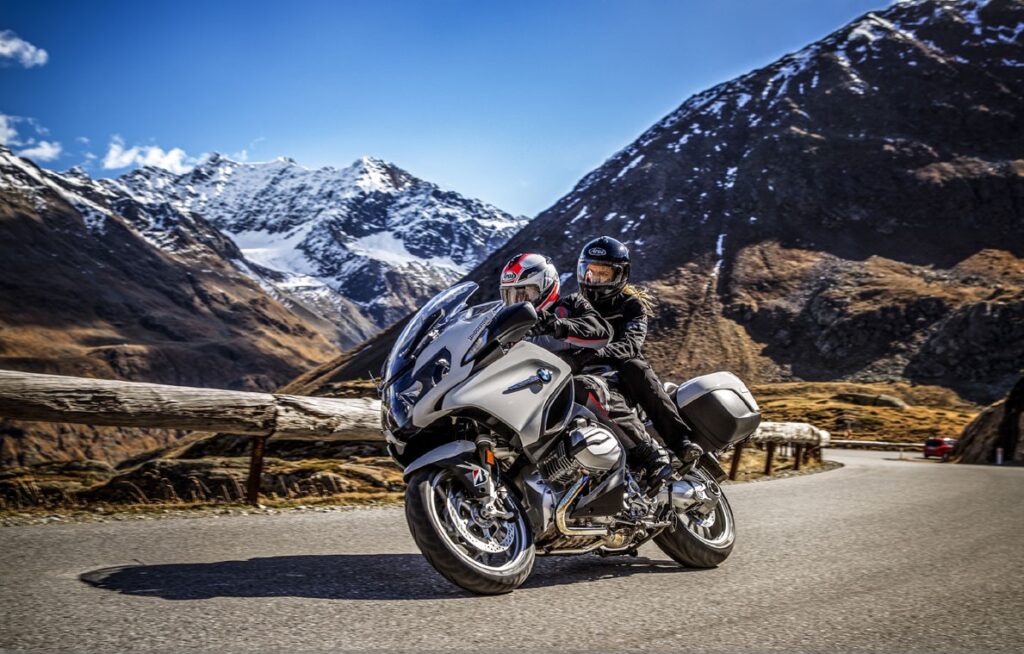 The Dual Compound Advantage
One of the defining characteristics of the A41 is its use of a dual compound in some sizes. This is unlike the T21, which managed a similar performance with a new molecular approach. But why the dual compound, especially on the front? The answer lies in achieving the ideal deformation and feedback capacities, which a single compound couldn't offer.
Especially when navigating the rugged terrains of an adventure, this distinction becomes critical, providing the rider with the right feedback and control during cornering.
Tackling Diverse Terrains with Confidence
Riding on diverse terrains can be a challenge, even for the most experienced bikers. Today's ride offered a taste of it all – from long off-road sections interspersed with deep sand, stones, and fluctuating elevations to stretches that alternated between tarmac and sand. The constant change in conditions demanded acute awareness and adaptability. Traditionally, encountering gravel on a sports bike would send a wave of panic. However, with Bridgestone's tire under the wheels, the experience was quite different. Riding on gravel felt more intuitive, and transitioning from tarmac to undefined terrains felt less daunting. The tires provided a reassuring grip, quickly adapting to varying surfaces, making even the trickiest sections seem manageable.
Mastering the Terrain with Bridgestone's Tires
Navigating through diverse terrains is no simple task for a biker. Factors like road conditions, bike weight, and tire grip play a pivotal role in dictating the experience. Bridgestone's latest offering promises to make this experience smooth, and my recent ride was a testament to that promise. With every turn and swerve, the tires provided unparalleled stability, even on tight switchback sections, a domain where many tires falter.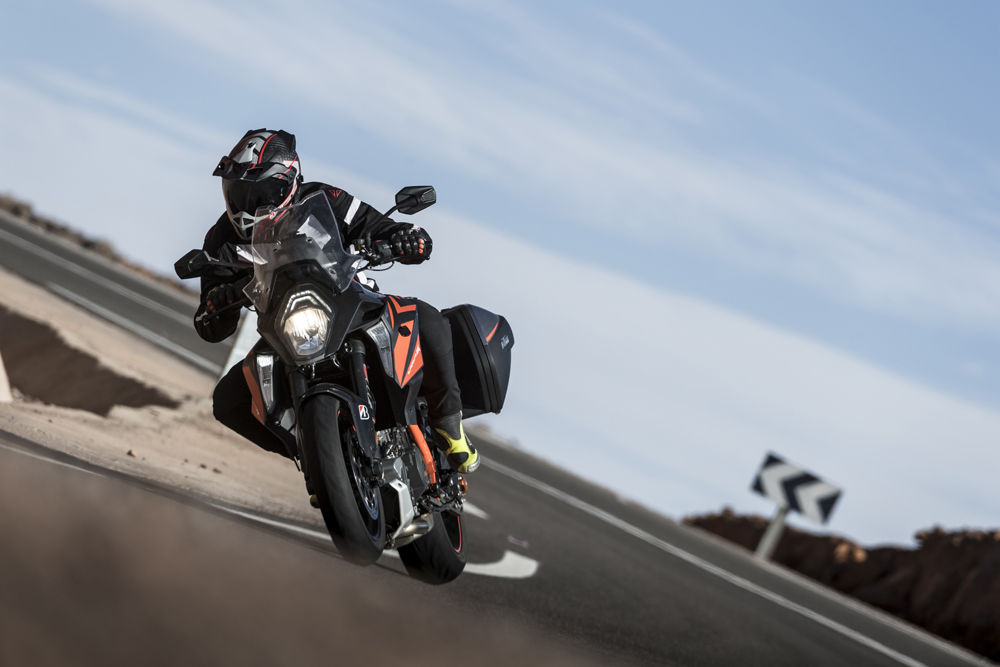 Pushing the Boundaries: A Test of Grip
Admittedly, there were moments I doubted the tire's capability, especially when running at such a pace on challenging roads. Many a time, I anticipated a slide, preparing myself by adopting a supermoto style – foot out, elbow pushing down. To my surprise, the expected slide never came. The consistent grip was not just reassuring, but it emboldened me. Slowly, I reverted back to a conventional stance, even daring to lean in more. The tires held firm, refusing to give way. Their performance, even on heavy bikes, was commendable, allowing for easy flicking from one side to the other, even on gravelly conditions.
The Bridgestone A41: A Comparative Analysis
Such experiences compel one to draw comparisons. The Bridgestone A41, another marvel in tire technology, springs to mind. When juxtaposed, it's interesting to see how each tire fares and where one might edge out the other. But that's a discussion for another day. For now, it's clear that Bridgestone's commitment to safety, stability, and performance is unwavering, as evidenced by my exhilarating ride.
Introducing the A41: Bridgestone's Game-Changer
The tire industry has seen myriad innovations over the years. Yet, with every new product, the challenge remains: How to outperform the previous version without compromising on any aspect? Bridgestone's A41 tire is a testament to achieving just that. Unlike many other upgrades that focus on enhancing one particular feature, the A41 stands out by offering improvements in every performance area.
The All-Rounder: Multiple Improvements Over its Predecessor
While evaluating any new product, especially tires, comparisons with its predecessor are inevitable. The A41 not only surpasses its predecessor but does so across multiple fronts. It's not just about better grip or enhanced mileage; it's about the holistic experience. The A41 is crafted to ensure that riders don't have to choose between one performance benefit over another. It promises, and delivers, the best of everything.
Top Three Standout Features
With so many enhancements, pinpointing the top features can be a challenge. However, after extensive tests and rides, three characteristics stand out:

Confidence: The A41 instills a sense of reliability, ensuring riders can tackle any terrain with self-assurance.

Mileage: Bridgestone has managed to increase the A41's longevity, ensuring riders benefit from extended tire life without compromising on other features.

Total Grip: Whether it's wet roads, gravel, or smooth tarmac, the A41 offers unparalleled grip, redefining the riding experience.
In Conclusion
Bridgestone's A41 is not just another tire in the market. It's a culmination of relentless research, dedication, and the drive to deliver the best. It offers an amalgamation of confidence, longevity, and grip, ensuring that riders don't have to make trade-offs. In a world where products often sacrifice one feature to enhance another, the A41 is a breath of fresh air. It's a tire that promises all and compromises on none. For those seeking the pinnacle of tire technology, the Bridgestone A41 stands tall as the epitome of excellence.