Welcome to the tire review of the Bridgestone Battlax BT-45 here's a quick reminder of what it looks like and here's a reminder of what we had before these are the Avons road riders am26s. 
Okay, so what do I think very impressed with these the first thing that I did notice was that tar snakes barely noticeable well round area anyway whereas on the Avons there are a lot of sideways tracking when you went over a tar state that's one of the first things I noticed about these bridge stones it didn't happen which is really impressive actually for me so big thumbs up for that I've just got over 2 000 k's on these tires now I think yeah so yeah just clocked over 40 000 kilometers on it I just did oil change filter change and I cleaned up my chain you can see they're nice and shiny. 

Are Bridgestone Battlax BT-45 tires good for the rain?
I've been riding here for a few days when it has been raining here and these tires give me a lot of confidence in the rain the Avons did too but there are I don't know whether my tires were getting old or a bit worn there was the front started to let go a little bit I just feel a bit you got to I got to the point where I sort of didn't really trust it anymore so that's why I changed them out and I thought I'd try these BTt45s and in all the usual trouble spots that I have in the rain these have been really good I don't know whether it's a combination of the softer compound on the sides as opposed to the center whereas the Avons are just a single compound so far as I'm aware but I think these have got a bit slightly better drainage I'm unsure it looks like the Avon is pretty good too this is one of the reasons why I chose it. 
A lot of siping here like that I figured and a lot of treads this way when you go around a corner I think that might be where I was getting some uneasy feedback here that it's a bit narrower and you get the drainage in between there but anyway that's just been my experience yeah really like them now since washing them off when I first got them with the soapy water made a huge difference as if you had a look at my first review of these tires and that's continued and the confidence from that has just been increasing since the tires have been more and more scrubbed in so after obviously a couple of thousand k's they're willing to be there now so let's see what the next few thousand k's will bring.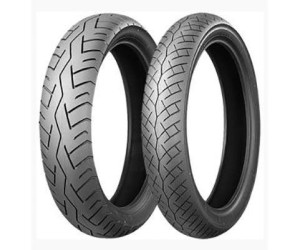 What I did find when I was cleaning my chain and adjusting the tension was that I took these took the bike in to get the tires put on because I don't have the facility here at home to mount my own tires balance etc so I took it into the shop and this is a shop I took it into that I've not been to before and I was just undoing this nut here the castle nut and I got my big breaker bars out because these are supposed to be torqued up to 72-foot pounds and what I found was after a split pen outit wasn't talked up at all I think a five-year-old with a small ratchet could have undone it and that was a big worry so I'm going to contact the dealership tomorrow it's Sunday now so I'll contact them tomorrow morning and just let them know just in case somebody else is not found that out just yet it was lucky that I did because I was doing the oil change and doing my chain maintenance at the same time because I changed my oil every 3000 k's um. 
Is there any problem with the Bridgestone Battlax BT-45 tire?
You can see here I'm digressing a little bit but I hope you don't mind seeing a bit of moisture in the window there I've been getting moisture in the cap after it's been running now this has got fresh oil and a fresh oil filter let me just have a quick look here I just ran it just to run it through I don't know if you can see that just in the corners here the little white foamy looking stuff in the corners normally after when I come home from work both sides here I foamed up got to clean it out and I can't see it in there so easily but yeah that's just one thing I've been struggling with a little bit and it's not from a broken head gasket or anything like that I think I mentioned in one of my previous reviews that it was because I tried to cheat a little bit with the process of re-adjusting the valves and in that cheap process let some water into the sump so yeah so I'm paying for that now. 
Anyway this isn't about that this is about the tires so yeah I can highly recommend these tires for sure and if you do get them put on at the shop do check the torque setting on your rear axle there okay just so I wish I'd done that earlier but you know you trust these people they do it every day you figured out they know what they're doing but obviously they don't so yeah that's it for today just a short one and I will attempt to get another video out sooner than I have this one okay cheers you