Hello, today I'm standing in front of our Africa twin outfitted with the OEM stock tire this is one of the two tires that comes on this bike this is the Bridgestone Battlax Adventure A41 the other tire that this bike comes stock with is the Dunlop trail match you just see at the bottom of the stack over here now this A41 Adventure tire from Bridgestone is a primarily street tire it's not rated as a 90 10 or an 80 20.
What is the purpose of the Bridgestone Battlax Adventure A41 tire?
It really is an Adventure street tire that they built for longevity and for exceptional wet weather handling we'll go over those characteristics here in just a second but before we finish up this Adventure tire test we wanted to get these tires out and put them through some of the paces that we put the tires behind me to the test as well. 
Behind me there is a slew of tires we did roughly 21 sets of Adventure tires ranging from a 90 10 so 90 percent street 10 dirt all the way up to a 60 40 60 percent dirt 40 percent street now each of the tire manufacturers have their own way of rating these tires so we wanted to make sure that we tested them equivalently we ran the same air pressure 30 psi in all of these tires took them out and put them through their paces now let's go over some of the features and benefits of this A41 Adventure tire from Bridgestone and then I'm going to take you out on the trail and the road so you can see just how it performs while preserving long tire life the Adventure A41 achieves the conflicting objective of performance in the wet stability in the dry and improved handling in particular shorter braking distances on wet road surfaces and enhanced corner grip make for a more confident riding experience even in the rain. 
Can Bridgestone Battlax Adventure A41 tire last for long-distance touring?
This is a next generation Adventure type tire that allows riders to extract even more enjoyment from the unique riding that only Adventure bike can offer whether it be long distance touring highway cruising or riding on unpaved roads this tire is recommended for riders who travel on Adventure motorcycles and enjoy mostly on-road touring this tire is also fantastic for riders who find themselves riding in wet situations often as it offers high wet performance and a long tread life wear you'll notice the tread pattern has deco groove enhancements which give wet weather performance and offers improved agility and line holding with an aggressive look this delivers confidence inspiring performance and excellent life for a wide range of bikes the front tire uses a three lc tread construction through the appropriate distribution of compounds optimized for grip this tire achieves two objectives superior handling and mileage the rear tire uses the three lc plus construction the upper section of the shoulder uses a compound with a softer type of silica while the compound adopted for the lower section uses a medium hard type of silica this results in improved stability when cornering. 
When looking the tread pattern it has been designed to achieve improved performance in both dry and wet we've mentioned that a couple of times this is how they did it if you look at number one this has an increased groove ratio at the shoulder this gives improved water drainage and enhances performance in wet conditions when you look at feature number two the high angled grooves are distributed over the shoulder section increasing the contact for more uniform distribution of contact pressure which results in improved wet grip when cornering looking at aspect number three this reduced portion of the grooves in the central section of the tread increases the block rigidity resulting in shorter breaking distances and wet conditions as well as improved straight-line stability. 
All right now let's get on this bike and ride it good morning ladies and gentlemen today I want to talk about the stock tires that came on this Africa twin cr-1000l they are the Bridgestone Battlax Adventure A41 tires now these have been on the Africa twin for quite a while now they're also an OEM tire for several of the other Adventure bike manufacturers out there the Africa twin specifically comes on either this tire or a tire from Dunlop called the trail max I have another video out there that talks about that specific tire and kind of how it functions and works but they're both 90 10 tires what I would call them 90 or even 95 percent on road and then five or 10 percent road they do a pretty decent job on gravel fire roads and things of that nature. 
What is the difference between a standard street tire and Bridgestone Battlax Adventure A41?
So take a look at this tread right here as you can see the leading edges are pretty minimal there's two or three right here and then the space between the lugs if you will it's basically a straight tire that has larger sipes in it than a standard street tire and that's really what's giving it its off-road capability is just the amount of distance between one patch of rubber and the next now I've been riding this tire for about a thousand miles now um and I've had it in several different types of terrain and I'm going to say that it's a pretty good all-around tire I mean if you're looking for a street tire that you're going to hammer some gravel roads on this tire is a really good tire now I have noticed that on cold mornings such as this it's 59 degrees outside it's not really cold but even this morning as I leave out of a driveway and go to turn the back end when it hits the paint it's going to skip a little bit it was a little bit dewy last night so there might be a little bit of moisture on top of that paint. 
Just the fact that the tire itself isn't as warm as it would be I was at the beginning of my rides the tire itself wasn't warmed up but there are lots and lots of tires that I've ridden and tested that do not do that so that's a characteristic of this tire that I'm going to say is a negative characteristic the fact that it takes a little bit of time to warm up and when temperatures are cold or damp painted surfaces can be a little bit tricky so you can see that once they get warmed up they've got quite a bit of grip they do a really good job of being able to hunker down on the pavement and do the job this last weekend I was out carving some canyons with travis and his father-in-law manual andboth this tire and the dunlop trail max was on those bikes I gotta say it's a really good all Adventure tire if you're not getting really dirty on it if you're not hitting mud if you're not in deep sand if you're not in slippery top soil on top of some hard pac.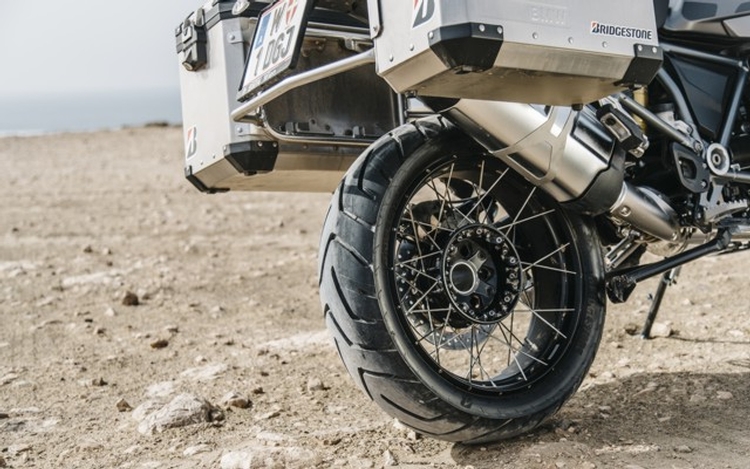 This tire actually does a really good job travis comes from a strictly dirt background and after we got done riding for the day he's like man these tires actually really impressed me I thought I wasn't gonna be able to go on half the stuff that you know as we started rolling towards them like oh crap I got these tires on it but at the end of the day they ended up working out really well now I did crash this bike on these tires on that trip I came across a cement culvert that had some dirt sprinkled on top of it and as I came in and rounded my corner as I normally would on a solid dirt road the front tire just disappeared like I was on ice really fast boom down didn't even know what happened I came into that corner I didn't touch brake I wasn't on the throttle I just was making that corner and because that that loose dirt that was on the top is a different consistency than that cement basin that I was going over the tire just didn't have any side lugs on it to be able to keep it from slipping out and away it went no good now as this is a street tire primarily instead of a true Adventure off-road tire. 
Is there any problem with the sidewalls of the Bridgestone Battlax Adventure A41 tire?
The sidewalls on this tire are relatively soft so the problem with that is when you get into off-road situations like we did on sunday you have to keep the pressures up a little bit I mean 30 I mean anywhere from 25 to 30 psi it's about as low as you're going to want to go on terrain like that because the sidewalls aren't very stiff a lot of the other Adventure tires that are out there in the marketplace that have a very stiff sidewall so you can air the tire down and the tread of the tire can do its job but that sidewall is protecting your rim from dings and scrapes and pinch flats which is the most important thing this last weekend we did have two different pinch flats that we found in this tire one we were able to fix and one that we were not which resulted in us having to go back and get the pickup truck andgo ahead and bring his bike home which is a bummer now once we got into the dirt the regular traditional dirt roads they were just fine we could hammer those with no problem at all whatsoever now when the terrain got really deep and loose. 
We had a problem with these tires actually being able to grab a hold and propel the bike forward in the really soft gravelly type sections you can hear the engine rpm on my bike revving a little bit higher than it would and we're really not going anywhere forward that tire is just kind of spinning back there trying to find traction and it's really not able to do a good job now I'm going to show you a clip of travis trying to get some traction as he's pulling away from the group to start out with the ride as you can see this tire is working really hard to try to find traction where there's just not enough leading edge or bite on that tire in order to dig in and propel forward dig in and propel forward.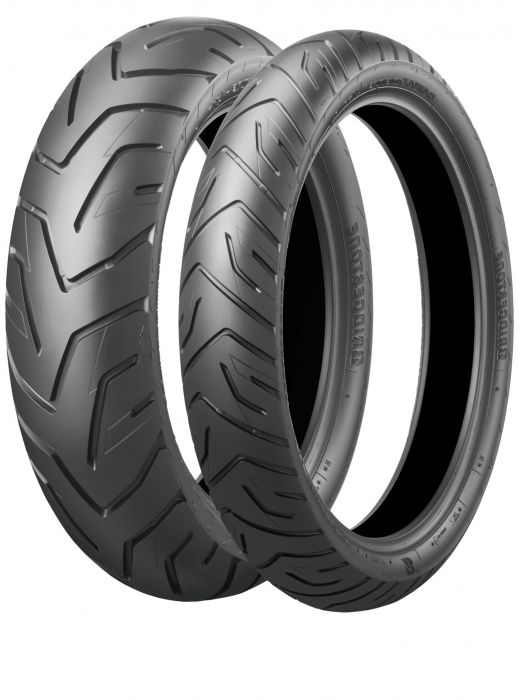 Now about the only thing I haven't really been able to demonstrate on these tires as of yet it's been deep sand so what I'm going to do is pull off right now go ahead and jump into some of that deep sand and see if I can show you what that looks like little Santa ana river action so I jumped down in here today because at the end of this little spillage way if you will there's a great deep sand section it's a great place to showcase these tires and kind of how they handle in deep sand situations it's doing a lot better than I thought it would do we're totally just shooting a huge roost. 
Is Bridgestone Battlax Adventure A41 tire good for sand takes?
So over there is this track we just made from right here kind of snakes out goes out and around comes back I said it's about a mile and a half to the next or I usually get off when I'm doing a tire test so I really don't feel like fighting it that much today there's a little hill climb for you all right so that's what I have for you today this is the battle axe A41 from Bridgestone as you can see it's a relatively capable tire sand it did a lot better than I thought it would I really have to give it credit for how well it pushed forward in the sand takes a little bit of effort but the tire itself actually did a really good job so that's it Bridgestone A41 Battlecross tire if you're looking at getting a new Adventure bike and it has that tire on its stock. 
Well, this is the type of terrain and the type of experience you can expect to get out of that tire if it's currently on your bike and you're wondering what it does because you're afraid to take your bike out and drop it well there again is a good example of what those tires are capable of so you can judge what type of terrain you would like to go and venture out on thank you for joining us on this quick little tire test of the Bridgestone A41 Adventure tire as you can see this is a primarily street oriented tire allowing you to get your Adventure bike out there into the world.