Hey, we are here to talk to you today about the Avon Speedmaster MKII and safety mileage tires so let's chat first off about who's gonna be looking at these hd guys and looking at you vintage bike guys looking at you chopper guys triumphs these are old school bias ply tires designed to go on old completely obsolete rim sizes so let's chat about what makes the Speedmaster and safety mileage special.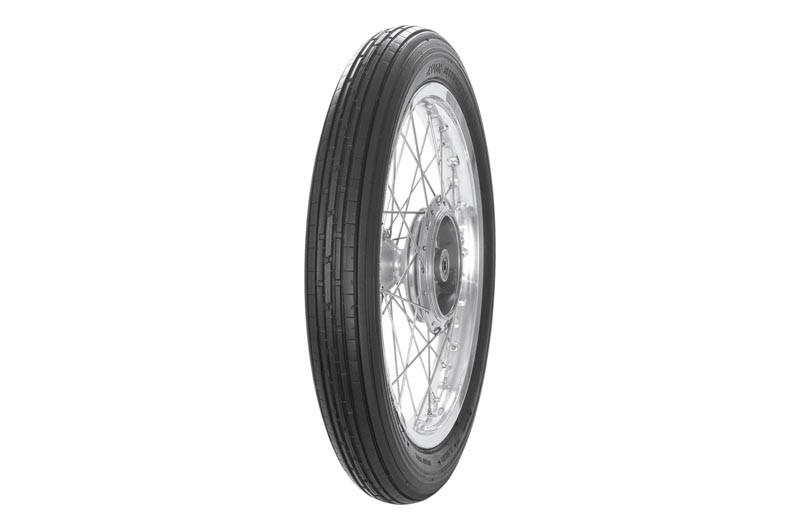 Is Avon Speedmaster MKII better than Safety Mileage tire?
Firstly we're doing two tires together because there is no such thing as a rear speed master there's no such thing as a front safety mileage these tires are a system designed to work together these are kind of super cool tires for a variety of reasons first they're made in england which is kind of nice if I had to pick anywhere in the world that my tires were coming out of it would probably be somewhere from europe or north america I don't necessarily love my tires coming from other spots you don't have to worry about that with an avon these are as you can tell you have a classic ribbed pattern here on your on your tire this is going to be just a standard ribbed front it's a really classic look I mean this has been around since the 60s or 70s making bikes look good and it still looks good today so if you're rocking an older bike or trying for an older bike look you don't have to have that weirdo newfangled tread pattern um you can stick with something that's tried and true and it's still gonna be pretty decent. 
Now on the rear tread pattern on these tires, you're looking here at a sawtooth design now depending on what size tire you're gonna wind up getting there are actually three different tread patterns you could possibly see these in so you may get a sawtooth you may wind up also like a standard block tire almost like a trials look but all the same it's going to be sort of a classic a classically appearing tire you're not going to have something crazy and odd looking um you know two different time periods both of tire and bikes smashed together. 
The tread pattern of the Avon Speedmaster MKII tire
One of the other things I think is cool but since this tire has been around for a super long time obviously the tread pattern has been updated slightly here and there but for the most part um like we said these are classic patterns however the compound definitely has been updated over the years these are actually pretty sticky tires um I love running speed masters on the front of a lot of my bikes and the way the tires work together much like a sort of like an older big rig you have both a steer axle and a drive tire now this you know and that explains sort of some of the difference in the tread you'll see the front tire that rib pattern allows it to be good at both steering and stopping duties and then that rear tire with either the block or the sawtooth pattern winds up being pretty good for traction under power. 
Do I need to replace the rim strips?
You know it's being driven now installation of these tires is pretty standard I actually find them to be pretty easy they're bias ply they have a fairly floppy sidewall you can see me flexing it here so it winds up making it pretty easy to pop that puppy over a rim lip as always when you're doing your tires you definitely want to replace a set of tubes and examine your rim strips are typically an item that doesn't need to be replaced every time you're doing tires but you do want to check them out and make sure their condition is good now if there is anything I can do to convince you to buy an avon speedmaster I would think it would be something like this take a hint from the crazy chopper guys I think you'll always see a handful of these at any show you wind up heading to custom white walls are always a nice touch when you can do your own now don't take my word for it check out what some other riders are saying see see what some of the reviews say and see if these tires gonna be for you.