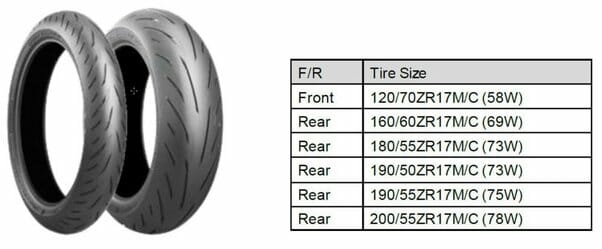 Changing a motorcycle's tire size is one of the most common maintenance tasks that bike owners face. But, changing the wrong size of a motorcycle's tire can make it behave unpredictably. Here are some tips to keep in mind when changing the tire size of your motorcycle. You should also be careful about the type of motorcycle you buy – some motorcycles have radial tyres, while others are mated with bias tyres.
Buying too large a tire
Buying too large a motorcycle tire can cause a host of problems. It can compromise your handling and may ruin your meter. It may also cause your chain and swingarm to rub. There are ways to avoid buying a too-large tire. Check the spec sticker on your motorcycle and online data spec sheets to make sure it will fit. Buying a motorcycle tire that barely fits may also be too large when you ride.
When choosing a motorcycle tire, know what type of load you will be carrying and your riding style. If you buy a cheap tire, it might not be able to carry the weight you need or sustain the speed you need. While it may be tempting to save money, it is not a good idea to buy a tire that is too large. Running a tire that is too big or too small for your motorcycle will cause premature tire wear and damage to the rim.
When buying a new motorcycle tire, record the mileage you ride with the old one. This will give you a benchmark for measuring the life of the new motorcycle tire. While many riders will expect their new motorcycle tire to last the same amount of time, that is rarely the case. Moreover, the type of riding you do will change over time. Experienced riders will also consider things such as track-like days and two-up touring.
Buying too small a tire
When buying a motorcycle tire, you should first check the size. While most bikes will come with a spec sticker that specifies tire size, you may need to look up the exact measurements on your bike. Usually the DOT code at the end of the tire identifies the size in terms of its width and aspect ratio. If it's smaller than this, you're probably getting the wrong tire. If you're not sure how to find the correct size, you can also check online data spec sheets. The size 77 represents a load capacity of 908 pounds. On a typical load rating chart, the corresponding size is between 47 and 87, or 1,202 pounds.
Besides the size of the tire, you should also check the manufacturer's reputation. Tires made by trusted brands like Dunlop and Michelin will have more durability than a cheap motorcycle tire. However, beware of brands that don't have a long history and aren't a trusted brand. Buying too small a motorcycle tire can make riding very dangerous. You may even end up injuring yourself.
Some motorcycle owners try to use the same size on both the front and rear tires. Purchasing too small a motorcycle tire can lead to an accident because the smaller one can't handle the weight and maneuvers of the bike. Also, getting a larger motorcycle tire may rub against the frame or wiring. This could be a costly mistake. So, you should pay attention to the manufacturer's guidelines for motorcycle tire size.
Buying a round tire
If you're planning to buy a new motorcycle tire, you must be aware of the motorcycle tire size and rim size. Motorcycle tire size is usually denoted in inches, but it may also be written in metric or alphanumeric system. To find the correct motorcycle tire size, follow the following steps. First, determine the wheel diameter. Then, check the width of the tire. If the width is greater than the width, you should purchase a larger tire.
Then, choose the tire size and type according to your riding style. If you ride a touring motorcycle, you should purchase tires that can accommodate the combined weight. It's important to check the maximum load rating on the motorcycle tire, as well as the manufacturer's manual. Motorcycle tires can be expensive, but they're often worth the price. In this article, you'll learn about the different motorcycle tire sizes, as well as their benefits and disadvantages.
To determine the correct tire size, check the sidewall of your motorcycle tire. It will contain a set of numbers that indicates its size. For example, a 29-inch-size motorcycle tire will have an aspect ratio of 90. The height of the sidewall is proportional to the width of the tire, and the height is shown as a percentage. For instance, a 700×25-c motorcycle tire will have a width of 25mm.
Buying a bias-ply tyre
When you need to change the size of a motorcycle's tire, you can buy a bias-ply tyred motorcycle. These tires come in a variety of sizes, and the letter designation is helpful for selecting the correct tyre. Listed below is a breakdown of the different letter designations and how they relate to tire size.
Radials are the newer technology, and have taken the motorcycle tire market by storm. But, bias-ply tyres still have their place. Which type of tire is right for your motorcycle depends on how you plan to use it and how much you ride. Here are some guidelines for buying a bias-ply tyre for changing the motorcycle's tire size:
Bias-ply tyres differ from radials in construction and load-carrying capacity. Bias-ply motorcycle tires are more resistant to shock and provide good traction under heavier loads. These tires are made with alternating layers of fabric cords on a bias. The additional thickness in the carcass is beneficial for the rider, but it can also create heat problems.
Buying a bias-ply nyre to change a motorcycle's tyre size is an excellent way to increase the width and load-carrying capacity of the bike. However, if you plan to use it to haul cargo, you must consider the size of your bike's bike papers before buying a bias-ply nyre.
Changing a motorcycle's tire size
Changing a motorcycle's tire size will drastically affect its handling, especially if it is on a small displacement bike. It will also have a major effect on its unsprung weight, or the weight of components that aren't supported by the suspension system, such as the brakes and wheels. Here are some tips to change a motorcycle's tire size. Read on to learn more. Also, remember that the proper tire size should not be more than one half an inch larger than the bike's total width.
First, jack up the motorcycle. If it is not already jacked up, use stands to stabilize the motorcycle. Then remove the rear wheel and install the new one. You must carefully align the sidewalls to make the new tire fit snugly. Make sure to align the rotation marker with the valve stem on the rim. Make sure the psi is right, and then inflate the tire to the appropriate pressure.
Another important factor in changing a motorcycle's tire is its aspect ratio. A wide tire will cause the motorcycle to ride higher or lower, whereas a narrow one will be more comfortable and give better cornering performance. In addition to determining the proper tire size, check the bike's manufacturer's specifications to ensure that you get a fit that's right for your motorcycle. Once you've established the correct size, you'll need to consider the other aspects of the motorcycle's ride.
Safety considerations
If you are planning to change the tire size on your motorcycle, there are several important safety considerations that you should keep in mind. Motorcycle tires come with specified maximum speed and load ratings, which are important for the bike's performance. When changing the size of the tires, keep in mind that it will alter the unsprung weight of the motorcycle, which will affect its handling and cornering ability. You can choose to purchase a new motorcycle tire if you are certain of the type of riding you want to do, but it's better to consult your owner's manual before making any changes.
If you are an experienced motorcycle rider, you probably already know which category your motorcycle tires fall into. However, you must still do your homework to ensure that you choose the right tire size for your bike. Tire technology is evolving rapidly, so it's vital to keep an eye on the newest changes in tire sizes to ensure that your motorcycle is safe. Make sure you follow the manufacturer's guidelines and follow all safety precautions.
If you plan to change the tire size on your motorcycle, be sure to change both front and rear tires. If one is different from the other, you may encounter handling issues and will end up with an expensive bill. Changing motorcycle tires before the recommended age can be expensive, so make sure you research properly. Check the tread, and also look for cuts, cracks, and foreign objects. If you find any of these problems, contact your motorcycle's manufacturer.