The exhaust system is one of the most critical parts of any motorcycle. It affects the way your motorcycle accelerates, sounds, and drives. Have you ever wondered about how this system works? Typically, an exhaust system releases the gasses generated from the motorcycle's engine combustion chamber into the outside atmosphere.
As a result, the bike remains quieter while running and improves your riding performance. It also converts harmful gasses into less dangerous ones that help the engine run smoother. Keep reading this context; we will cover in-depth information about the working process of the motorcycle exhaust system.
Different Types Of Motorcycle Exhausts System?
Motorcycle exhaust systems come in different varieties with different functions. Your chosen exhaust system will determine your motorcycle's performance and noise. Here we have discussed different types of exhausts with their operations.
Straight or Drag Pipe
A straight or drag pipe exhaust system is the most common type of motorcycle exhaust. There is only one header and one exhaust on this type of exhaust. The solitary pipe is the only source of gas discharged into the atmosphere from the engine chamber.
Dual Exhaust
Heavy motorcycles are more likely to have this type of exhaust system. Dual exhaust systems contain two cylinders attached to two different exhausts. As a result, the exhaust gasses do not need to pass through a single exhaust. It helps in improving the mileage and performance of your motorcycle. Another advantage is that dual exhausts add to the motorcycle's weight.
Two Into One Exhaust

You will find two headers connecting to a single exhaust in two into one exhaust. This exhaust is lighter than dual exhaust systems. For that, they are commonly used on heavy motorcycles like Harley Baggers.
Having the best 2 into 1 exhaust for Harley Bagger ensures that you will get high riding performance.
Four Into Two Exhaust
This exhaust system contains four headers that are connected to two cylinders. These four headers are then divided into two exhausts. Four into two exhaust systems are usually heavier, but some motorcycles perform better through these exhaust systems.
Four Into One Exhaust
In this exhaust system, four headers are connected to four cylinders. These four headers pipes are then joined into a single tube before merging into the collector. Four-into-one exhausts are lightweight and suitable for increasing performance on some motorcycles.
How Does Motorcycle Exhaust Systems Work
The exhaust system removes the post-combustion gasses from the engine. The produced gas travels through the header pipes before returning to the exhaust exit. As this gas is scorching, they pass very fast. When the gas passes through the exhaust pipe, there are parts of the tube where it widens.
The exhaust gasses expand due to the widening of the exhaust pipe. As a result, the gas will travel a wave of pressure back towards the engine, meaning backpressure. This pressure is significant to running your motorcycle engine efficiently.
Your motorcycle will drop fuel mileage and low-end performance without this pressure. Besides, the internal engine of a motorcycle creates a ton of heat with several toxic gasses. In that case, the exhaust system helps to remove the hot gasses making the engine cool.
How Does Exhaust System Affect Motorcycle Performance?
Many things contribute to increasing the engine efficiency and the overall performance of a motorcycle. The exhaust is one of the most important among them. Once the engine performs combustion, the engine forces out the produced gasses through the exhaust system.
The engine will need less work expelling the exhaust gasses if the exhaust system works properly. As less effort is required to push the gasses, the energy produced is used to accelerate the engine. Although you will not notice any huge differences in engine performance, this will keep your engine running better. The efficiency of a motorcycle engine doesn't depend on any single component.
Different Parts Of The Motorcycle Exhaust System
The exhaust of a motorcycle contains different parts that contribute to exhausting the hot gasses from the engine. Here we have discussed some common parts of exhaust.
Headers
The emitted gas from the engine enters the header pipes. These pipes join with the engine and end in the collector. The header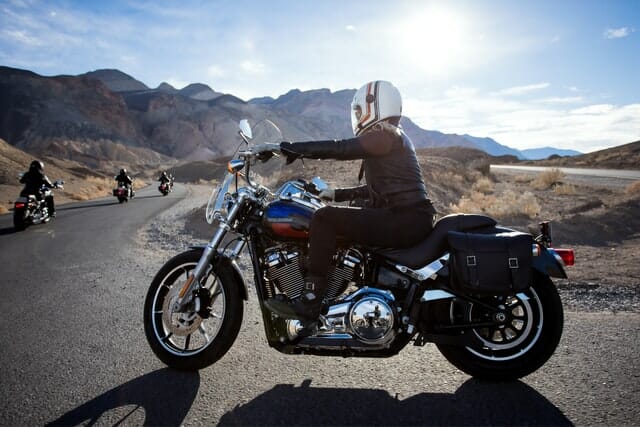 pipe helps to reduce the backpressure.
Collectors
It collects the gas from the header pipes and converts the harmful gasses into less harmful ones. This conversion also helps to reduce the engine noise.
Catalytic Converters
Catalytic converters are installed in the collectors and connector pipes that connect the header and collection in a four-in-one exhaust system. These assist in transforming hazardous gasses such as CO into less toxic CO2.
Oxygen Sensor
Oxygen sensors are installed near the collector. These assist in detecting oxygen in the exhaust and feedback to the engine, allowing it to use more or less fuel.
Butterfly Valve
It is a servo-controlled valve installed just before the muffler. The butterfly valve usually regulates the backpressure and sometimes noise.
How To Choose The Best Motorcycle Exhaust Systems?
Not all exhaust systems will be suitable for your motorcycle. Here we have demonstrated some factors that will help you get the right exhaust.
Performance
When buying an exhaust system for your motorcycle, you should pick one that will help to boost your riding performance. Using smaller exhaust on the smaller bikes, you will gain good performance. But for heavy motorcycles, you will need to install an efficient exhaust system. This way, you can ensure you will get the maximum performance from your bike.
Weight
By installing a new exhaust system, you can reduce around 20lbs weight of your motorcycles. If you wish to convert your sports bike into a race bike, you can replace your exhaust system with a lighter one. The good thing is that the performance of your motorcycle will not be compromised with proper exhaust.
Sound
Changing the exhaust system on your motorcycle may change the sound. In that case, you can make your motorcycle sound better using your preferred exhaust system. Having a new exhaust system, you can turn your motorcycle sound either too weak or too aggressive.
Type Of Exhaust System
You might have already gotten a good idea about different types of motorcycle exhaust systems. Usually, four into one exhaust is suitable for most motorcycles due to its better performance and sound. Before purchasing an exhaust system, ensure it is compatible with your bike.
Materials
If your budget is lightweight and highly efficient, you can go for titanium exhausts. But for a high budget, you can choose a stainless steel exhaust. These types of exhaust systems are both durable and cost-effective. You can also purchase aluminum exhausts that are handy and suitable for those who live in dry weather.
Fuel Management
While replacing the exhaust system of a motorcycle, it is good to change fuel management. Without fuel management change, replacing your exhaust will be a waste of money. You will just need a fuel controller or jet kit for your motorcycle.
Conclusion
Hopefully, you might have figured out how a motorcycle exhaust system works after reading this context. The exhaust system is the most vital for any motorcycle. Typically, it is a process of emitting waste gasses produced in the engine's combustion chamber outside the atmosphere.
This process helps to keep your motorcycle's engine cool and functional. For that, the performance of your motorcycle will increase as well as decrease the engine noise. Overall, the exhaust system protects the motorcycle, rider, and environment. However, check out the section above; if you find any difficulty choosing the right exhaust for your motorcycle.