Motorcycle accidents are devastating experiences that can lead to disastrous consequences such as serious injuries, disabilities, property damage, and emotional distress.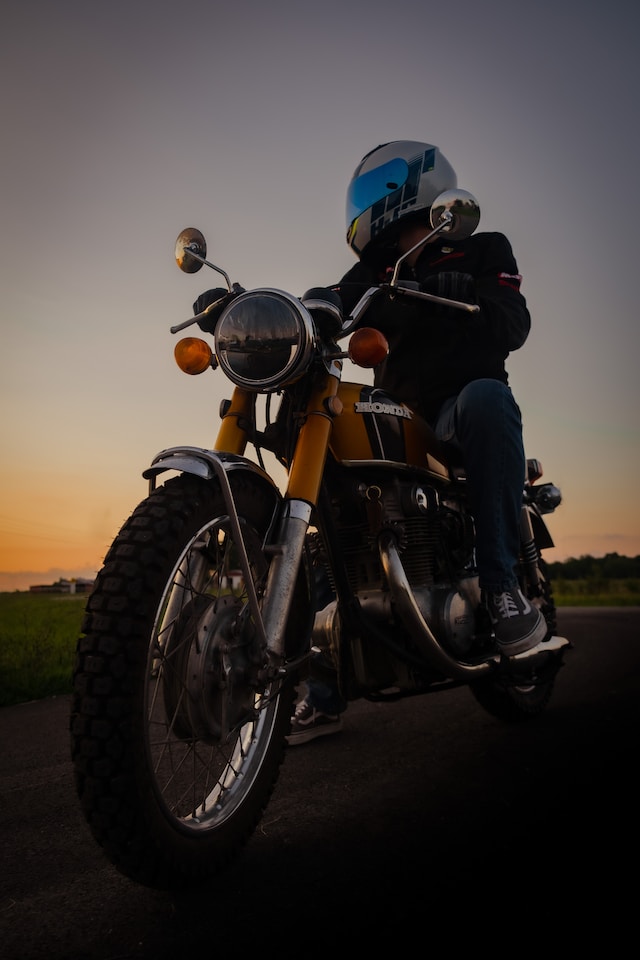 According to a study, every year, more than 80,000 people get involved in motorcycle accidents, and at least 5000 motorcyclists get killed in motorcycle accidents in the United States.
After a motorcycle accident, it leaves victims confused about their legal rights and the right steps to take.
If you or someone you know has been involved in a motorcycle crash and suffered injuries, it's crucial to seek legal help from a motorcycle crash law firm as soon as possible.
In many accidents, it can be resolved through insurance companies, while in a few cases, it needs the expertise of legal professionals. These motorcycle accident attorneys can guide you in understanding your legal rights. Knowing when to consult motorcycle accident lawyers and how to file a personal injury claim is important.
Here is the best time to hire a motorcycle crash law firm:
Immediately After the Accident:
In most accident cases, getting in touch with an accident lawyer soon after the crash is vital. After the motorcycle accident, get medical treatment and if possible, call a motorcycle accident attorney. Getting in touch with a motorcycle crash law firm shortly after the accident can help to prompt immediate action towards gathering evidence and initiating an investigation.
When Dealing with Insurance Companies:
Usually, insurance companies start their investigations soon after the crash. They contact parties involved in the accident and witnesses to collect as much evidence as possible. However, they always try to settle the claim quickly by providing the minimum compensation. You can consult a lawyer if your insurance claim is difficult to navigate or the insurance company is not offering the compensation you deserve. Motorcycle accident attorneys have years of experience handling these cases and can help you get the rightful compensation.
When Liability is Disputed:
Determining who's at fault in an accident can sometimes be complex. If you have been in a crash where a fault is disputed or unclear, seeking legal representation is important. This is because the other party can mislead the case, and you can falsely accuse even if the accident happened because of the wrongful actions of another person. A lawyer will immediately investigate and gather evidence, including accident reports, witness statements, and videos, to determine who was at fault.
When Suffering Serious Injuries:
Motorcycle accidents result from minor injuries like road rash and abrasions to serious injuries like traumatic brain injuries, broken bones and fractures. Even in some cases, it leads to permanent disabilities and death. This happens mostly due to the fault of the motorcyclist's negligence. Motorcycles offer a lack of protection as compared to enclosed vehicles. This is why it's imperative to hire a motorcycle accident attorney after you recover from injuries.
When Facing Financial Burdens:
Due to severe injuries suffered in an accident, victims are imposed significant financial burdens. From medical expenses and test result costs to property damage and lost wages, various things can also impact a victim's life and cause financial instability and stress. When you hire a motorcycle crash law firm at the right time, you can get help from the best motorcycle accident attorneys to file a claim for compensation for your financial losses. This can alleviate some of the financial burdens you suffered in an accident.
When Seeking Emotional Support:
Motorcycle crashes not only cause physical damage but can also result in emotional trauma. Getting help from legal professionals is crucial in these situations. A lawyer knows more than just legal expertise; it can also offer emotional support and guidance throughout the process. Motorcycle accident attorneys will hear your concerns regarding your claim and provide reassurance during this difficult time. This made navigating the entire legal proceedings easy and quick.
When Need Detail Information About Your Case
It's always better to consult motorcycle accident lawyers if you have any questions about your compensation claim. Even if the insurance companies take immediate action after a crash, they still try to minimize the amount you receive as compensation. An attorney will guide you about your legal rights and offer the legal advice you need to proceed with your personal injury claim.
How Can a Motorcycle Accident Attorney Help You?
There are many benefits of hiring motorcycle accident attorneys. From initiating an investigation to guiding you through legal proceedings, an injury attorney can help you in many ways.
Here are some key benefits of hiring a motorcycle accident lawyer:
Collect Evidence
Motorcycle accident lawyers have years of experience handling numerous personal injury lawsuits. They can use their resources to gather the following:
Police reports
Witness statements
Medical records
Surveillance camera video
Photos and videos of the accident scene.
Based on this evidence, it is easier to determine who is at fault and prove your liability.
Recover Financial & Non-Financial Losses
A motorcycle crash law firm can help you to get compensation for:
Medical bills
Treatment expenses
Rehabilitation costs
Future and ongoing income losses
Serious injuries and disabilities
Pain and suffering
Motorcycle accidents and crashes often result in severe physical damage and injuries. Apart from the above-mentioned compensations, a lawyer can help you seek compensation for the emotional trauma and other mental health complications you suffered due to the accident.
File A Lawsuit
After hearing about your case and gathering appropriate evidence, a motorcycle crash firm will guide you through the legal system. Whether you don't know about your legal options or are unsatisfied with the insurance compensation, a lawyer can assist you in initiating a lawsuit. This will also increase your chances of winning and getting the maximum compensation.
Conclusion
Not every motorcycle accident requires legal representation; specific conditions include serious injuries or disabilities, unworthy insurance settlements, complex liability issues, and unfamiliarity with legal procedures. This is why knowing when to hire a motorcycle crash law firm is essential. These motorcycle accident attorneys will assist and help you file a claim against the person responsible for the accident.