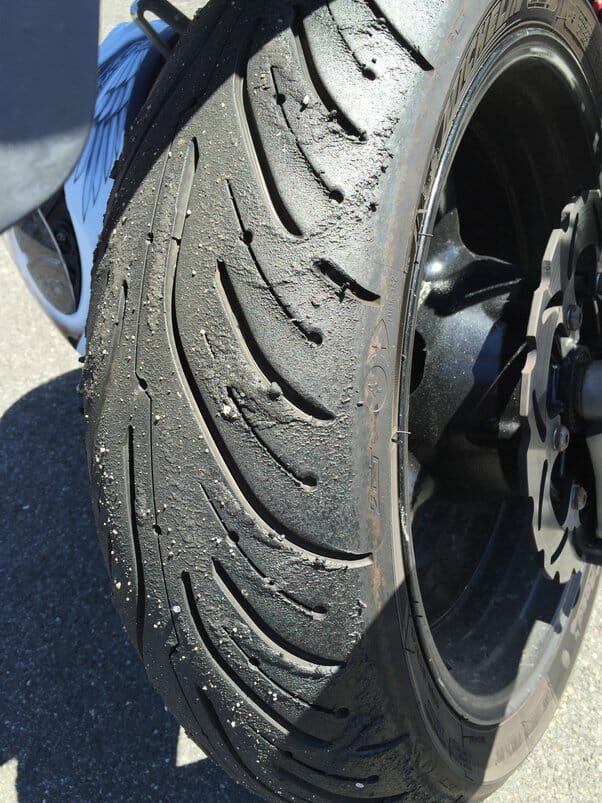 Do motorcycle tires expire? These tires are no different from car tires and have a birth and expiry date, but they do not have a stamped expiry date. They wear out over time and most manufacturers recommend replacing them after 5-6 years, depending on the condition of storage. Some types of tires have a longer life, while others may not. No matter how long they've been in storage, your motorcycle tires will eventually wear out.
Date code
The date code on motorcycle tires is a key piece of motorcycle maintenance information. Even if you ride your motorcycle only occasionally, you should replace your tires about every six years. Even the highest-quality tires can begin to show wear and tear over time. Knowing when your tires need replacement is vital to safety and motorcycle performance. Learn more about how to read the date code on your motorcycle tires. After reading this article, you will be able to make an informed decision about your motorcycle's tires and keep it in top shape.
The date code is usually on the sidewall of the tire and is enclosed in an oval. On older tires, the date code will be a 3 digit number that lists the week and year of manufacture. If you're unsure of the year, look for the last digit of the date code. A tire with a date code of 529 could have been manufactured in December 1999, 1989, or 1979. However, a motorcycle tire that has this code is unlikely to be older than five years old.
The date code on motorcycle tires will differ slightly from bike to bike. If you're looking for an old bike that has its original tires, the code will be different. In order to know whether your motorcycle tires are still in good condition, check the tire's date code before buying a new one. It's important to check the date code because it can affect the safety of your motorcycle and other motorists. And as with all motorcycle parts, the date code is important for the safety of your bike.
Motorcycle tires are complex pieces of technology. With different material compounds, they provide contradictory levels of flexibility, grip, and stiffness. Motorcycle tires also come with an expiration date. Depending on how often you ride, the tire can last as long as six years. The manufacturer also receives a batch identification number, which indicates when the tire was manufactured. This is useful in making the best possible decision when selecting a motorcycle tire.
Signs of oxidation
The best way to determine when your motorcycle tires need to be changed is to inspect them regularly for oxidation. If they are showing any of these symptoms, they are past their "sell by" date and will need to be replaced. Also, make sure that you have at least the minimum tread depth of the tire. Motorcycle tires are very important to ride your motorcycle, so you should check them regularly to prevent any damage.
The internal structure of a motorcycle tire is vulnerable to oxidation. Oxidation begins by removing electrons from atoms within the elastomer's molecules. This process makes the rubber harder and more brittle. While this process doesn't occur immediately, it can happen over a period of time. The good news is that you can tell if your tires need to be replaced before they fail completely. You can look for these signs by using the date code on your motorcycle tire.
The more exposed your bike's tires are to the elements, the quicker they'll oxidize. Store them in a dark, dry place away from extreme heat or humidity. Using plastic bags to store your bike's tires can help reduce the oxidation process by keeping the air out and preventing oxygen from reaching the tires. This also prevents oil from evaporating and drying out.
Another way to spot signs of oxidation is by checking your bike's tire's DOT code. Most motorcycle tires come with a DOT code, which is four digits that show when they were manufactured. The DOT code will tell you whether it was manufactured in the year or the week. For example, a 2318 DOT code means that it was manufactured on the 23rd week of year 2018.
Signs of mechanical problem
When your motorcycle tires start to show their age, it's time for a mechanic to look them over. Modern tires can last as long as five years, from the time they were manufactured. However, if you're not careful, you may end up with a problem. If that's the case, here are a few signs that you should look for. First, check the date code on your motorcycle tire. Most tires will have a date code on them.
Another sign of a mechanical problem is uneven tire tread wear. Over-inflated tires will experience uneven tire wear. If you have uneven tire tread wear, you should check your tire pressure regularly. Checking your tire pressure and riding in straight lines can prevent this issue. It can also result in uneven tire wear. The last thing you want is an uneven ride. Having uneven tire wear could mean a mechanical issue, so make sure you follow your bike's owner's manual for proper maintenance.
The oxidation process affects motorcycle tires. This happens when oxygen reacts with the rubber compounds in the tire. When the rubber oxidizes, it becomes harder and brittle. This means the tires will have a lower grip and will be more likely to blow out or develop flats. Tires with excessive tread wear also contribute to more accidents. Fortunately, eliminating this risk is relatively simple. By properly maintaining the condition of your motorcycle's tires, you can prevent an expensive mechanical failure.
Low treadwear is another warning sign that your tires need replacement. Tires must have adequate tread to function properly. A motorcycle tire is designed to have adequate grip on the road, shed water well, and be effective in off-road situations. If you're experiencing any of these symptoms, it's time to replace your tires. Your mechanic can help you determine the correct pressure level for your motorcycle tires. You can write down the levels required for each tire.
You may want to change your motorcycle tires when they reach their expiration dates. The rule of thumb for motorcycle tires is five years from the date of manufacture. But you can extend this time period by performing regular checks at a professional motorcycle shop. If the tread is below 0.8 millimeters, it's time for a new one. A motorcycle tire should be replaced if it experiences frequent punctures, dry rot, or unusual tread patterns.
Expiration date
When purchasing a new set of motorcycle tires, you should carefully check the expiration date on the motorcycle tire. The date code, which must be printed on both sides of the tire, affects the sizing, load index, and speed of the motorcycle. This date code was originally meant to help the National Highway Traffic Safety Administration recall recalled tires, but it is now becoming increasingly important to the general public. It is best to replace the motorcycle tires before the expiration date, otherwise the motorcycle may not be safe to drive.
While motorcycle tires can last for several years, they do not keep as long as produce or eggs. They may last several years on a shelf in a climate-controlled storage facility. However, there are other factors that may affect motorcycle tire longevity. Motorcycle tires can last for up to six years if they are stored properly and maintained. If you plan to ride the motorcycle more often than a couple of times per year, you should purchase new tires before the expiration date.
Motorcycle tires should be checked yearly, even though the manufacturer recommends riding on them for up to 10 years. The manufacturer will tell you when they are ready for replacement. You can expect them to last for five years on average, but it is recommended that you have them checked for wear and tear every couple of years, so that you can make sure they are in great shape. The better they are, the more confident you'll feel on the road.
When should motorcycle tires be replaced? While there's no specific "use by" or "expiration" date on motorcycle tires, you should make sure that they are replaced when their tread has worn down to about 37%. The best rule of thumb is to change your motorcycle tires every five years or 50,000 miles, and to replace them every three hundred miles for higher-cc bikes. If you can, change the front tires first. The rear tires will need replacement sooner than the front ones.